We are on Day 11 of my series, 31 Days of Young Living Essential Oils, and if this is your first time visiting, you can catch up on the the other days here.
Ditch overpowering and harsh chemical-based sprays and keep your home smelling fresh and clean with Young Living's Purification® essential oil. This blend is made up of six essential oils for the ultimate weapon against odors. Citronella, Lavandin, Lemongrass, Rosemary, Myrtle, and Tea Tree work together to create a refreshing, bright scent that keeps you and your family happy and comfortable.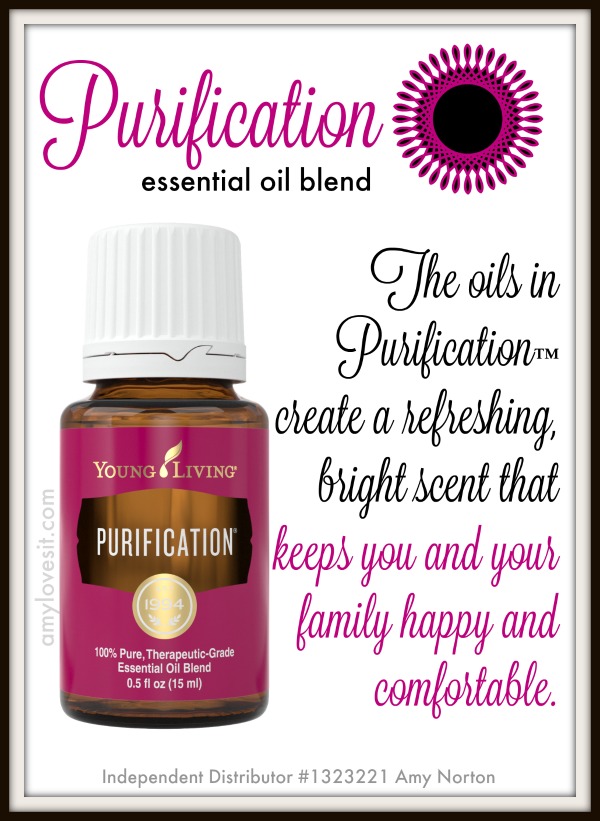 With Purification oil, you'll never need to feel embarrassed by bad odors from cooking, laundry, pets, or anything else life throws your way. Diffuse it throughout your house or use a more targeted approach so you always feel confident in your home, in the car, or on the go!
One of the ways I use Purification is in the laundry room. I add a drop to two to a load of cloth diapers or towels to remove odors. I also like to add a few drops to the wool dryer balls inside my dryer when I run a load. The clothes and towels come out smelling fresh every time!
This blend makes a lovely homemade air or linen freshener! Make your own with the recipe I've shared below.
Homemade Air Freshener
2 cups distilled water
8 – 10 drops of Purification essential oil blend
1/4 tsp epsom salts
Add the Purification oil to the epsom salts. This will "hold" the oils when you add them to the water and keep the oils from floating on top. Add the oils/salt to the water and pour into a spray bottle. Shake well. Spray around your home as you would any air freshener or spritz on linens for a refreshing aroma. Be sure to shake well before each use.
For more information on essential oils, go here.
*These statements have not been evaluated by the Food and Drug Administration. This product is not intended to diagnose, treat, or cure any disease. I'm just a mom sharing my experience! As always, do what you feel is best for your family. Image source: Young Living on Flickr.

Visit Nesting Place to see the other bloggers posting for #31Days.