It's Friday, and we are on Day 12 of my series, 31 Days of Young Living Essential Oils. If this is your first time visiting, you can catch up on the the other days here.
Joy is also a favorite in our home. We use Joy every day. I apply it over my heart, and the girls use it in the mornings to start their day off on the right foot. The aroma of Joy™ invites a sense of romance, bliss, and warmth when diffused. When worn as a fragrance, it invites togetherness.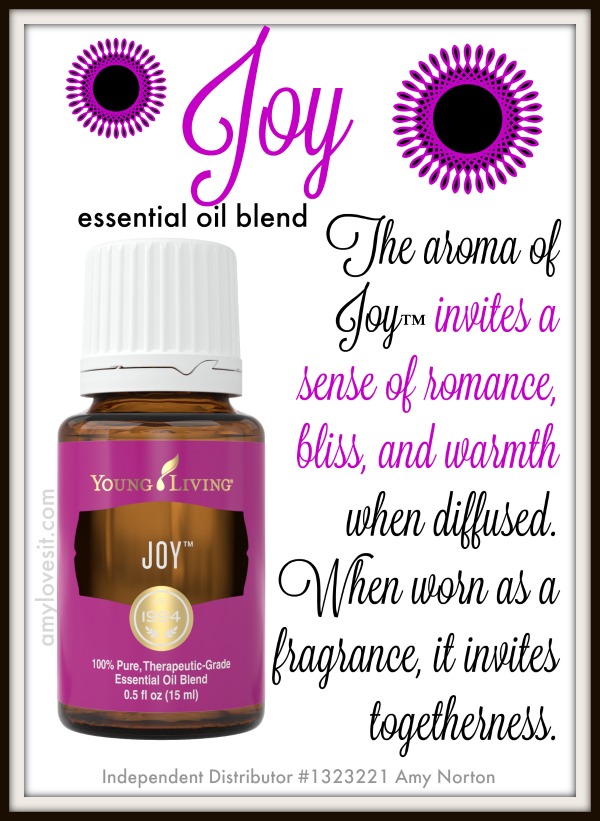 Joy is a blend of 10 oils: Bergamot, Ylang Ylang, Geranium, Lemon, Coriander, Tangerine, Jasmine, Roman Chamomile, Palmarosa, and Rose.
How to use Joy essential oil blend:
1. Mix a few drops of Joy in a spray bottle and spray it around your home, or diffuse it.
2. Add a few drops to a cup of epsom salts, mix, and add to your bathwater for a relaxing bath.
3. Rub a drop of Joy on your heart to boost your mood.
4. Place a drop on your wrists and behind your ears for an uplifting, luxurious perfume.
This wonderful combination of oils brings an uplifting mood, gives magnetic energy, and provides joy to the heart.
For more information on essential oils, go here.
*These statements have not been evaluated by the Food and Drug Administration. This product is not intended to diagnose, treat, or cure any disease. I'm just a mom sharing my experience! As always, do what you feel is best for your family. Image source: Young Living on Flickr.

Visit Nesting Place to see the other bloggers posting for #31Days.