I hope you have had a wonderful Saturday! It is Day 13 in my series, 31 Days of Young Living Essential Oils, and if this is your first time visiting, you can catch up on the the other days here.
Give occasional stress and nervous tension the one-two punch by diffusing and applying Stress Away topically to your wrists or the back of your neck. Stress Away can help combat the normal stresses that creep into everyday life, reduce mental rigidity, promote emotional well-being, and help restore mental balance.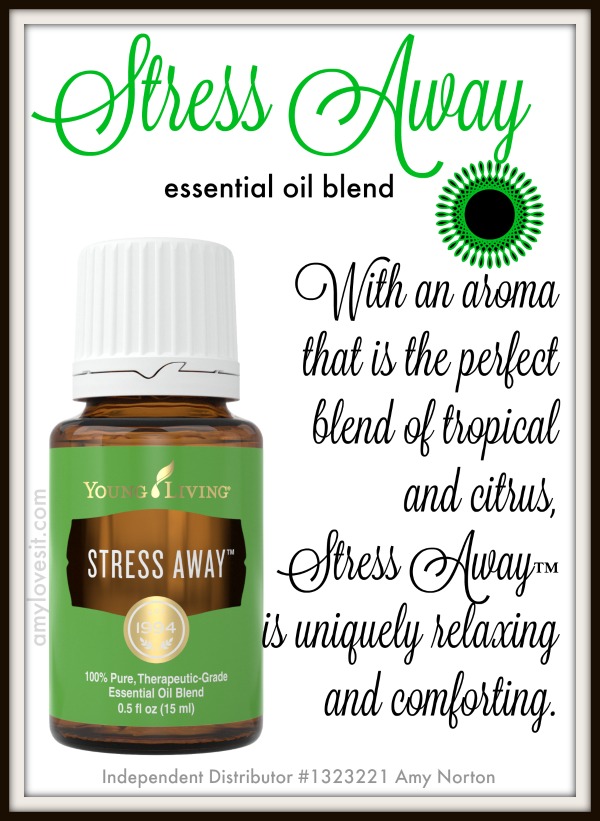 When I received my first bottle, I practically bathed in it. I was at a particularly hard time, and I truly believe this blend helped me. It gently soothed away my tension. I use this oil daily… and it's particularly handy when this directionally-challenged girl has to drive in traffic. Ha!
Stress Away now comes in a handy roll-on, which is perfect for taking it with you to work, school, or just out-and-about!
Stress Away™ is the first product to contain the unique combination of Lime and Vanilla pure, therapeutic-grade essential oils. With an aroma that is the perfect blend of tropical and citrus, Stress Away is uniquely relaxing and comforting. This incredible blend also includes Copaiba, Cedarwood, Ocotea, and Lavender essential oils.
Stress Away is the bonus oil in the Premium Starter Kit, so along with the ten amazing oils, you get this little gem. How's that for awesome?!
For more information on essential oils, go here.
*These statements have not been evaluated by the Food and Drug Administration. This product is not intended to diagnose, treat, or cure any disease. I'm just a mom sharing my experience! As always, do what you feel is best for your family. Image source: Young Living on Flickr.

Visit Nesting Place to see the other bloggers posting for #31Days.