It is Day 16 of my series, 31 Days of Young Living Essential Oils, and if this is your first time visiting, you can catch up on the the other days here.
R.C.™ essential oil is a powerful blend of Spruce, Cyprus, Myrtle, Marjoram, Pine, Lavender, Black Spruce, and three types of Eucalyptus oils (E. globulus, E. radiata, and E. citriodora). Diffuse or apply it directly before, during, or after your workout. Its energetic aroma will help you stay motivated when you hit the weights, treadmill, or bike.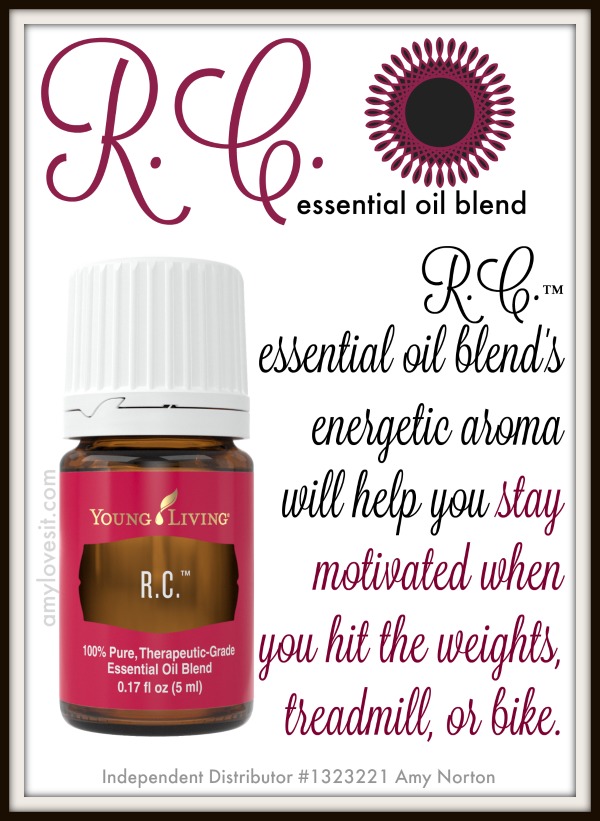 You can also combine Young Living R.C. oil with a carrier oil for an invigorating massage. This routine creates a relaxing spa-like experience and can even help when your day demands that you be out and about earlier than usual. It's robust scent will help you perk up as your day begins. R.C. is also a great substitute for Aroma Siez™ in Young Living's Raindrop Technique®.
R.C. is our family's go-to oil for respiratory support. It is always with me, and I have several bottles stashed in multiple locations around my house. We use this oil in the morning and before bed. My preferred place of application is on the sides of the neck and down the sternum.  When we are out and about, it is wonderful to help clear the air and nose of unwanted odors or unpleasant smells. All of my bottles' labels are worn and you can tell they're well-loved! Ha!
Along with topical application, R.C. is fantastic in the diffuser. We also like to place a few drops on cotton balls and store overnight in the car. It's also helpful to add a few drops on a cotton ball and place in the car's air vents when going on a long trip. R.C. has such a refreshing aroma!
For more information on essential oils, go here.
*These statements have not been evaluated by the Food and Drug Administration. This product is not intended to diagnose, treat, or cure any disease. I'm just a mom sharing my experience! As always, do what you feel is best for your family. Image source: Young Living on Flickr.

Visit Nesting Place to see the other bloggers posting for #31Days.