It is Day 17 of my series, 31 Days of Young Living Essential Oils, and if this is your first time visiting, you can catch up on the the other days here.
It may sound funny, but one of the oils I'm always running out of is actually for digestive support. DiGize has been amazing, and is one of the fastest-acting, most effective oils for me.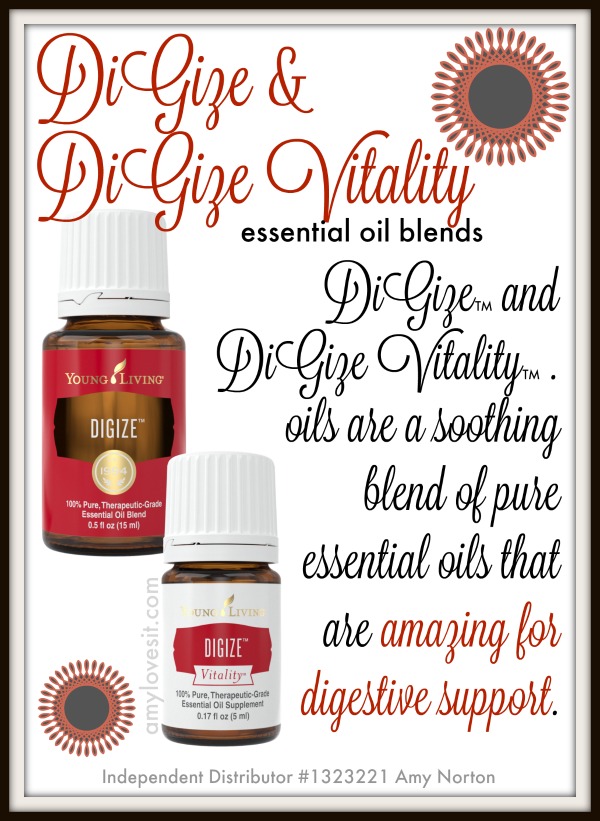 The DiGize essential oil blend is excellent for easing that "fullness" you get after eating a heavy meal.
We use DiGize – diluted with coconut oil – on the girls when they have gas or bloating, and even occasional constipation.
This oil was one thing that consistently helped Cam when he was tiny and having occasional bouts of gas. Massaging diluted Di-Gize on his tummy (1/2 a drop + coconut oil), along with chiropractic care, was truly a lifesaver for us in his early days.
My favorite way to use DiGize is to add a roller ball to the top of the bottle and apply it topically over my stomach. This makes application – especially on kiddos – so much easier! And if you plan to use it on your children, you might go ahead and add some olive oil to the bottle so it's already diluted. Easy peasy!
Young Living's Di-Gize is specifically formulated to help maintain a healthy digestive system. The Di-Gize blend contains a combination of the following eight essential oils: Tarragon, Ginger, Peppermint, Juniper, Fennel, Lemongrass, Anise, and Patchouli.
Guess what?! This is an older post, and as of 2016, we now have DiGize essential oil and DiGize Vitality essential oil! What's the difference, you ask? It's the same oil with different labels… one label (regular ole DiGize) for topical and aromatic use and the other, has a new white label for internal use.
Use DiGize Vitality essential oil to help you enjoy each and every meal. This is a great mealtime companion and addition to your wellness regimen. DiGize Vitality is a great complement to Essentialzymes-4. Take both before every meal to support your wellness.
A few ways to use DiGize Vitality:
1. Add a drop or two plus a few drops of carrier oil to a vegetable capsule and take as needed.
2. Place a drop under the tongue for quick relief. I will warn you, the flavor is a bit… strong.
3. Combine a drop of DiGize Vitality with a drop of Peppermint Vitality to a spoonful of honey after a meal.
For more information on essential oils, go here.
*These statements have not been evaluated by the Food and Drug Administration. This product is not intended to diagnose, treat, or cure any disease. I'm just a mom sharing my experience! As always, do what you feel is best for your family. Image sources: Young Living on Flickr.

Visit Nesting Place to see the other bloggers posting for #31Days.