We are on Day 19 of my series, 31 Days of Young Living Essential Oils, and if this is your first time visiting, you can catch up on the the other days here.
Orange essential oil, cold-pressed from the rinds of oranges, has a juicy aroma reminiscent of the fresh fruit. The rich aroma of Orange can assist in calming and relaxing the body, as well as uplift the mind. An important ingredient in popular blends such as Citrus Fresh™, Abundance™, Christmas Spirit™, and Peace & Calming®, Orange oil offers a sweet, peaceful aroma that can fill a room with a sense of peace, harmony, and creativity.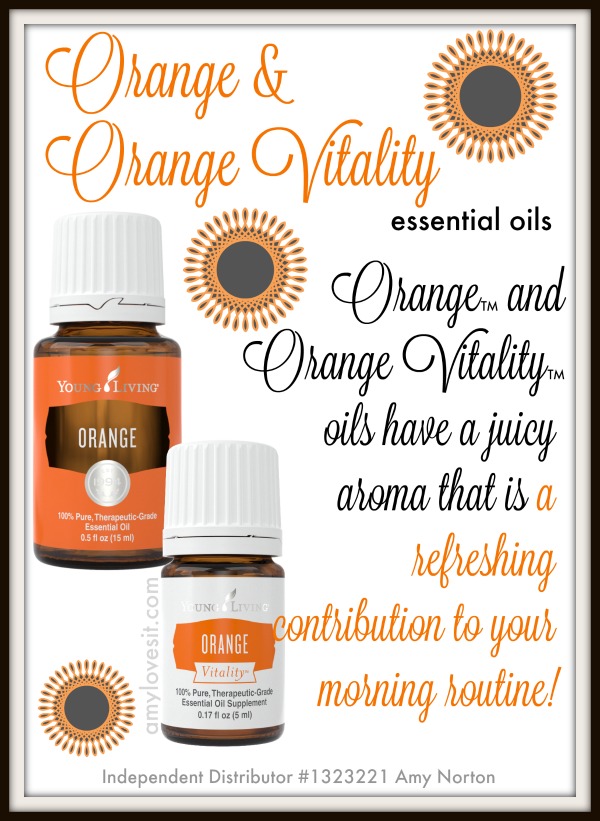 How our family uses Orange Essential Oil:
1. Place a drop in your palm, cup your hands to your nose, and inhale slowly several times for a mood-booster.
2. Diffuse throughout your home for a fresh-and-clean smell. I love combining Orange and Clove during the Fall.
3. Use in place of Lemon in your favorite homemade cleaner to use on kitchen counters, in the bathrooms, and more!
4. Since it can be calming for some, try diffusing it in the evenings to help wind down.
5. Apply a drop to remove sticky residue or gummy labels from jars.
6. Orange is a fantastic oil for diffusing to help maintain a positive and relaxing atmosphere in your home.
7. Combine 8–10 drops with distilled water or witch hazel in a small spray bottle and spritz over linens and in closets to keep your sheets, towels, and clothes smelling great.
Guess what?! This is an older post, and as of 2016, we now have Orange essential oil and Orange Vitality essential oil! What's the difference, you ask? It's the same oil with different labels… one label (regular ole Orange) for topical and aromatic use and the other, has a new white label for internal use.
How our family uses Orange Vitality Essential Oil:
1. I love adding Orange Vitality to my morning protein shake.
2. Orange Vitality is delicious when added to a glass of water.
3. I make homemade granola bars and add a drop of Orange Vitality and a drop of Cinnamon Bark Vitality in place of cinnamon spice. They add an incredible flavor!
4. Use Orange Vitality in your favorite summer fruit salad!
Note: Avoid direct sunlight or UV rays for up to 12 hours after applying orange, as it may be photosensitive.
For more information on essential oils, go here.
*These statements have not been evaluated by the Food and Drug Administration. This product is not intended to diagnose, treat, or cure any disease. I'm just a mom sharing my experience! As always, do what you feel is best for your family. Image sources: Young Living on Flickr.

Visit Nesting Place to see the other bloggers posting for #31Days.