Happy spring time! If you are anything like me, you are moving out the winter clothes and bringing out the summer ones, dusting everything off in preparation for sunshine, and cleaning. Lots and lots of cleaning!
Whew. With all of that cleaning, I am thankful for my non-toxic Thieves cleaner. But what else might I have in my home that isn't healthy?!
I am stoked to be part of this blog series. Several great bloggers are coming together this week to share recipes from a fantastic new-to-me resource, The Chemical Free Home. Making over products in our home doesn't have to be stressful. Instead, we can have some fun while ridding our homes of icky, harmful chemicals.
One of the areas in which I've become overly cautious, is with what goes on my children's skin. Goat milk soap in the bath, homemade bum cream, and coconut oil mixed with Frankincense for a "lotion" are just a few of the avenues I choose to take with our family's skin care. Which makes sharing this Bath Bath Soak recipe even more exciting for me! It is a fun replacement for an Epsom salt bath, and is very soothing and gentle.
The label may say baby, but this bath soak has been a hit with everyone from Cam all the way up to myself. Ahem. I enjoy a good soak, too!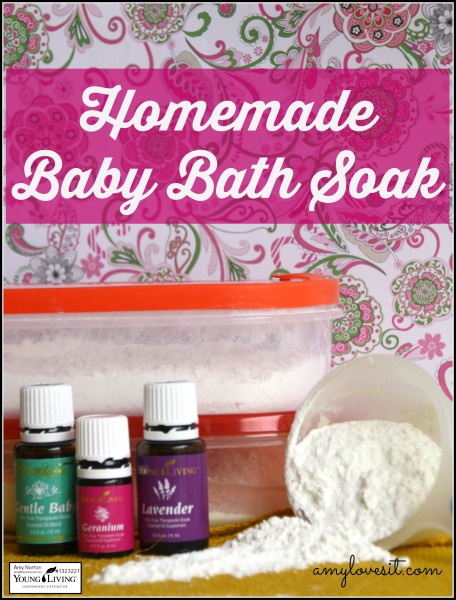 This recipe is from Melissa Poepping's The Chemical Free Home. I modified the original recipe a bit by changing the 3 Tbsp oatmeal to 1 cup. I like oatmeal in the bath!
Homemade Baby Bath Soak
2 cups Dry Goat Milk Powder (I purchased this brand on Amazon)
1 cup Cornstarch
1 cup Baking Soda
¼ cup Dead Sea Salt (fine)
3 Tbsp – 1 cup Oatmeal, pulverized (I popped it in my Ninja, and pulverized it good )
15 – 30 drops Young Living Essential Oil**
In a large bowl, carefully whisk dry ingredients together. Add essential oils*, and whisk until well blended. Store in a tightly-sealed container.
To use: Add ¼ to ½ cup to warm bath.
*I made two different soaks:
Gentle Baby Bath Soak: One-half of the combined dry ingredients (about 2 cups) + 15 drops Gentle Baby Essential Oil blend
Geranium & Lavender Bath Soak: Other half of the combined dry ingredients (about 2 cups) + 10 drops Geranium Essential Oil + 10 drops Lavender Essential Oil
**Great Young Living oils for baby: Geranium, Gentle Baby, Lavender, Joy, Peace & Calming
Total Yield: a little over 4 cups bath soak.
Original recipe is found in The Chemical Free Home by Melissa Poepping.
Wonderful, right? And the best part is that I can pronounce A-L-L of the ingredients, plus it is safe, gentle, effective, and easily made at home. Love!
Are you ready to jump in to this wonderful world of caring for yourself and your family naturally with essential oils?? The time is now!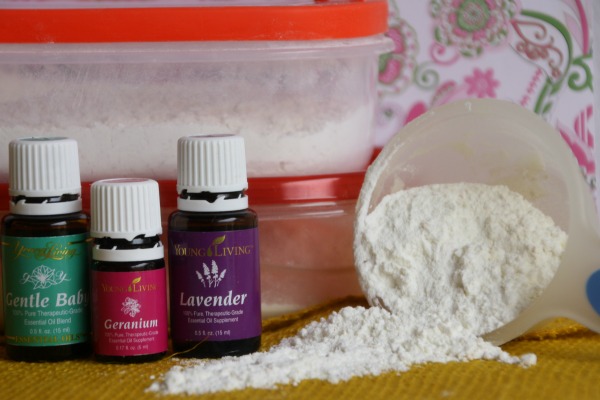 *These statements have not been evaluated by the Food and Drug Administration. This product is not intended to diagnose, treat, or cure any disease. I'm just a mom sharing my experience! As always, do what you feel is best for your family. Image sources: youngliving.org