Welcome to Day 4 of my 2014 #Write31Days journey! If you are new here, you can read a little more about me in the sidebar. 

One way I take care of our health is to be as aware as possible of what is in our cleaning products. I've mentioned my love of Thieves cleaner before, but have I told you why I can't handle any other cleaners?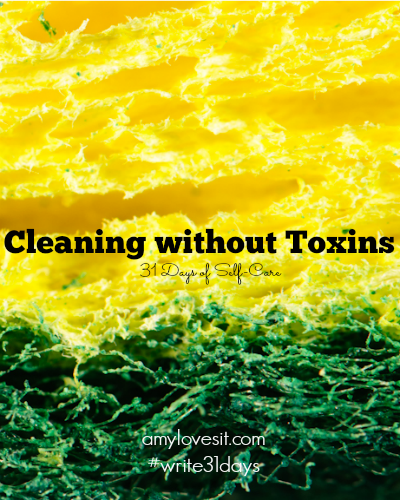 It began when I was pregnant with Meleah in 2008. All of a sudden – almost seemingly overnight – I could not handle any smells. Not scented warmers, candles (I didn't use these anyway), perfumes, air fresheners, laundry products, or commercial cleaners. The aversion did not go away after Meleah was born, and I still have a hard time walking into the grocery store because the smells of the cleaning and laundry aisles permeate the air for me.
At first, I used vinegar for cleaning, but that aroma wasn't too pleasant in my opinion, either. Then I moved to making my own cleaner with water and essential oils until I discovered Thieves cleaner.
I love Thieves Cleaner for several reasons, but my top 3 are:
1) It's a multipurpose cleaner: Thieves Cleaner is toxin-free, and is safe to use as a fruit/vegetable wash, while being strong enough to cleanse the bathroom. It is also fantastic on glass. I was pleasantly surprised at this discovery, as my former homemade cleaners left streaks.
2) The smell is not strong. Thieves Cleaner has a light scent that does not make me feel like I can't breathe, or give me a headache.
3) Thieves Cleaner is actually very economical. The cleaner comes in a concentrate that can be mixed with water, making it an inexpensive cleaner. When you use the economy-size refill bottle and make your own spray bottles, it costs around 70¢ per 30 oz. bottle.
I love that there is a natural and fairly frugal option for those of us who truly can't use other products.
Do you have a favorite natural cleaner?
If you would like to follow along on my #write31days challenge, you can subscribe via email or feed. To follow along on others' #write31days journeys, visit Write31Days.com.

photo credit (top): EJP Photo via photopin cc
photo credit: A Guy Taking Pictures via photopin cc