It's my birthday, and I'll party how I want to! Ha!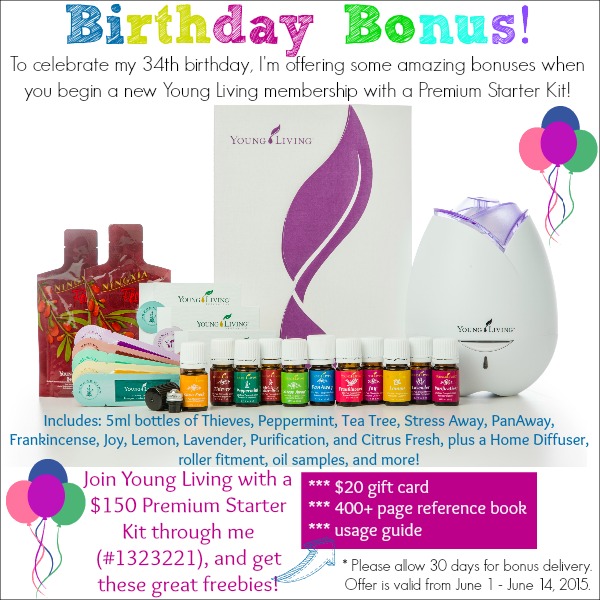 What better way to "come back" from an unintended blogging hiatus than to celebrate? Today is my 34th birthday, and we are going to party for the next two weeks with my favorite products! Let's toast to better health and wellness!
I have never offered a deal like this one, so if you've been on the fence about trying Young Living, now is the time!
Plus, while supplies last, Young Living is giving away a FREE oil with the purchase of a Premium Starter Kit! How fun is that?!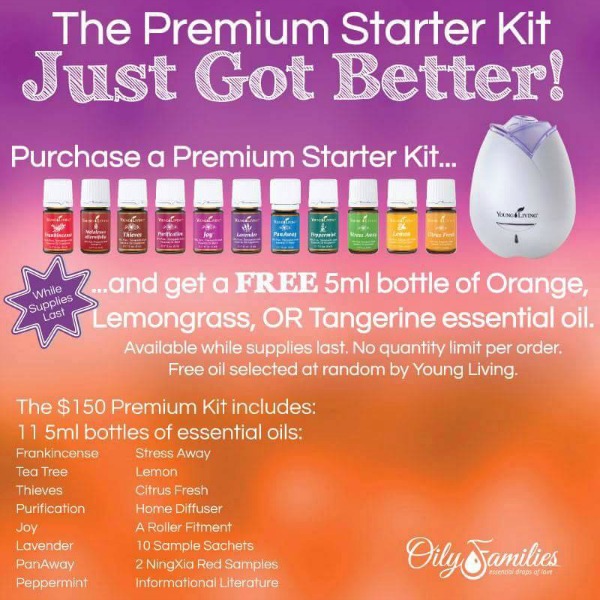 So, here is the deal. Today (June 1, 2015) through Sunday June 14, you can get the amazing Premium Starter Kit for $150, plus a FREE oil from Young Living, (while supplies last, so don't delay!), AND a $20 gift card, a 400+ page pocket-sized essential oil reference book, and a usage guide as my bonus gifts to you.
Ready to take the plunge? Here is how to get started:
1. Click here: youngliving.com to begin the enrollment process and choose a starter kit.
2. Choose the 'Wholesale Member' option so you can get the 24% discount. You should see my member number (1323221) in the Enroller and Sponsor boxes. This ensures that we're connected so I can support you as you learn about oils and how to use them. Young Living also sends me a small bonus when you enroll through me.
3. Scroll to the bottom and click the turquoise button, "next," and fill in your information. Be sure to write down your username, password, and PIN number. Also, your PIN should be a 4-digit number that you can remember, because any time you contact Young Living (or need me to contact them on your behalf), they will ask for that number.
4. Choose your starter kit. My favorite is the $150 Premium Starter Kit with all of the oils shown in the graphics above. (PS: The Essential Rewards Kits are optional, and you do not have to enroll at this time.)
5. Add more products if you wish, or simply begin the checkout process.
6. Finish and finalize your order. Your starter kit should make its way to your house within a few weeks.
7. If you need to log into your new account, this is the link to use: https://www.youngliving.com/vo/#/login.
If you do sign up using my number, be sure to send an email to amy@amylovesit.com and let me know. You can put "June Freebies" in the subject line. Be sure to include your first and last name and what starter kit you chose in the email. I'll send you some information that will help you learn to use your new oils when they arrive. I'll also ship you that free reference book and usage guide, plus add you to our private Facebook groups if you'd like.
About the FREE oil from Young Living:
Love the insightful educational tools and pure essential oil samples in Young Living's Starter Kits? We're excited to announce that with the purchase of any of our Premium Starter Kits*, you'll receive a free 5-ml bottle of Lemongrass, Orange, or Tangerine essential oil! One free oil will be selected at random and included as a bonus with your Premium Starter Kit.

Plus, we're offering all members the opportunity to order your favorite Starter Kits with no limit! While supplies last, you can order any Starter Kit in any quantity and take advantage of our collection of essential oil samples and business tools designed specifically for new members.

This limited-time promotion offers you the last opportunity to purchase this unique combination of popular, versatile essential oils. It will run only while supplies last or until the launch of our brand-new Starter Kits in June. Log in to Virtual Office and get yours today while supplies last!

And if you happen to already BE a Young Living member, you qualify for the free oil from Young Living!

I am thrilled to have you join our family on this amazing oily adventure!
These statements have not been evaluated by the Food and Drug Administration. This product is not intended to diagnose, treat, or cure any disease. I'm just a mom sharing my experience! As always, do what you feel is best for your family. Image sources: youngliving.com and Facebook.com/OilyFamilies.