My labor this time around did not last long, only around 3.5 hours, but honestly, it was long enough!

Most of that time was hard labor, and it was so short, I didn't have a lot of time to use multiple things.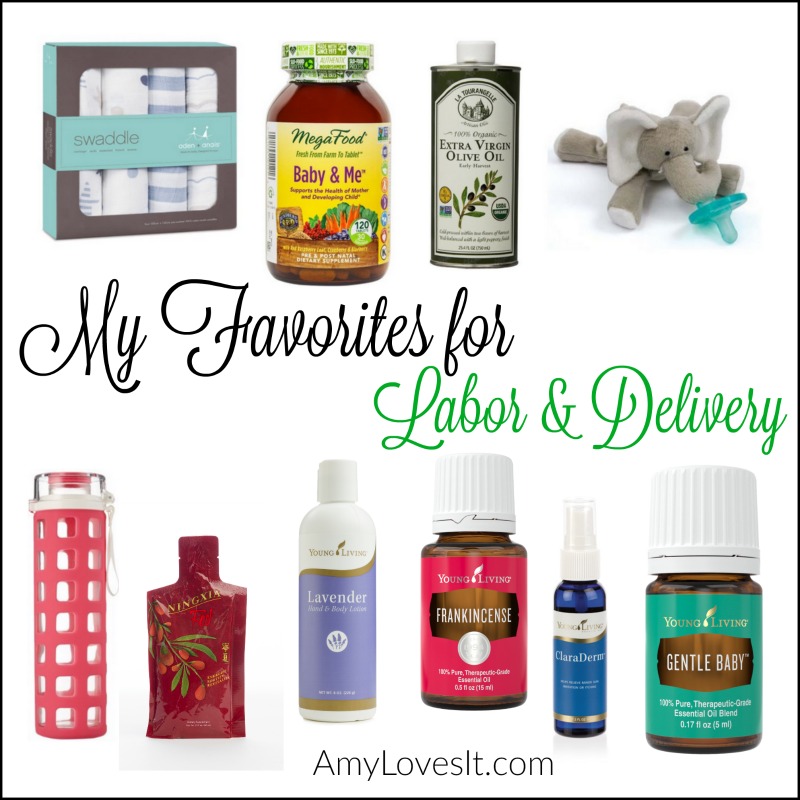 Here are my top five must-haves for labor and delivery:
Portable Battery Charger – My husband used his iPhone for pictures, video, texting updates to family, and posting on social media. This charger is amazing, and has saved us from a dead battery more than once. He even took it on a three-day hiking trip with his youth last year. He had zero access to electricity, and even with his almost-constant text and social media updates, the charger never died, and neither did his phone!
OrthoSport Massage Oil – I poured part of a bottle of this massage oil into an eyedropper bottle, to make it easier to use. I had Shane massage it onto my lower back during contractions. Ortho Sport Massage Oil provides a warming sensation to soothe achy muscles. It is a blend of Fractionated Coconut Oil, GrapeSeed Oil, Wintergreen Oil, Peppermint Oil, Eucalyptus Globulus Oil, Gum Oil, Wheat Germ Oil, Vetiver Oil, Lemongrass Oil, Sweet Almond Oil, Thyme Oil, and Olive Fruit Oil.
Gentle Baby Essential Oil – After I moved to the delivery room at the birthing center, I started out in the bed. I labored for a bit, laying on my side with a pillow between my knees for support. The contractions were pretty strong, and about all I could do was hold the bottle of Gentle Baby under my nose and inhale. It gave me something on which to focus, which helped direct my thoughts away from my contractions. Gentle Baby™ is a soft, fragrant combination of essential oils (Geranium, Rosewood, Coriander, Palmarosa, Lavender, Ylang ylang, Roman chamomile, Lemon, Jasmine, and Rose) designed specifically for mothers and babies. It helps calm emotions during pregnancy and is useful for quieting troubled little ones.
After-Birth Oils Combo: 10 drops Frankincense, 10 drops Lavender, 10 drops Myrrh, and 2 drops Rose added to an empty 5 ml bottle. Fill the rest of the way with olive oil. Shane and I had the privilege of anointing our son shortly after his birth. We each sprayed our hands with the ClaraDerm Spray, added two drops of this combination, and gently massaged Lincoln's head and body.
ClaraDerm Spray – ClaraDerm™ spray soothes dry, chapped, or itchy skin. Its gentle blend of Lavender, Frankincense, and other essential oils is expertly formulated to relieve occasional skin irritations. ClaraDerm™ may be used before and after childbirth.
This is not a comprehensive list… this is just highlighting what I used during labor and immediately after delivery. Many people will talk about having snacks on hand like energy bars, and maybe some NingXia Red for longer labors. I completely agree, however, I may or may not have been able to use them. I tend to get very nauseous during labor, rendering me unable to stomach much of anything. I had several other items ready to go, but did not end up using them!
If you plan on using a birth center for you next baby, Better Birth Doula has compiled a great list of what-to-pack.
*These statements have not been evaluated by the Food and Drug Administration. Young Living products are not intended to diagnose, treat, cure, or prevent any disease.
**All supplements, essential oils, and regimines were either approved or recommended by my midwife.
***If you would like more information on Young Living Essential Oils and products, you can read more here.