Ah, post-partum. You gotta love it. Sleep deprivation, your body is in recovery mode… and you have a sweet lil nugget to snuggle and show for all your hard work!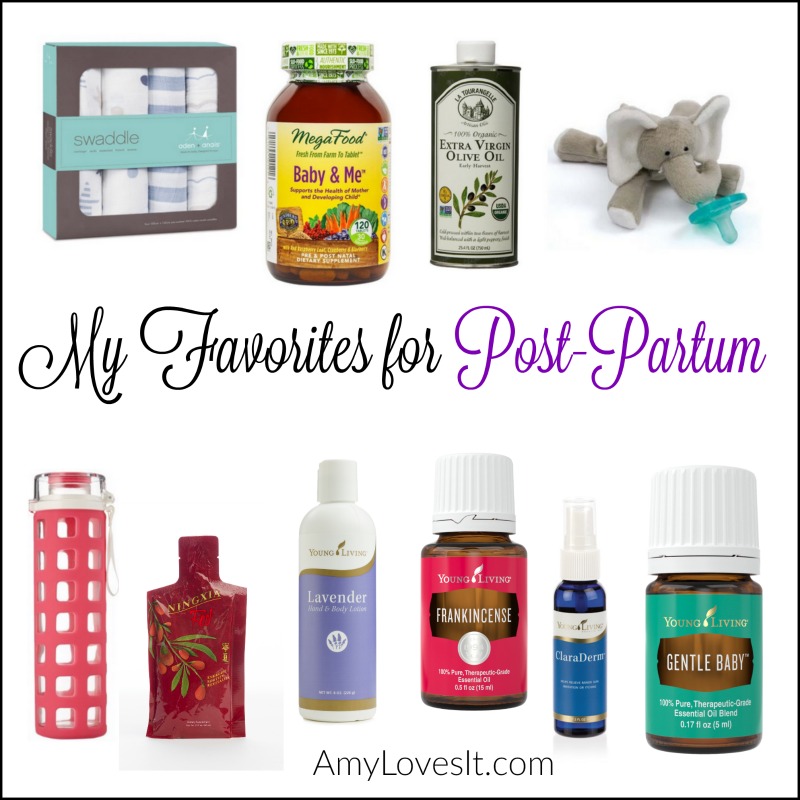 Here are my post-partum faves:
Depends – WHY did no one tell me about these before now?! They are sooooo much easier to use post-partum than those bulky pads and weird mesh underwear things I've normally been given.
Water – 80 oz is still my goal. New mommas, whether nursing or bottle-feeding, need to stay hydrated! It's easy to switch into "Mommy Mode" and worry more about your wee one than yourself, but do not neglect this! Trust me… DRINK YOUR WATER!
NingXia Red – I am still drinking 2-4 oz of this yummy antioxidant drink every day. NingXia Red benefits include support for energy levels, normal cellular function, and whole-body and normal eye health. A daily shot of 2–4 ounces helps support overall wellness with powerful antioxidants.*
MultiGreens Vitamins – One of my favorites to support energy levels is MultiGreens vitamins. MultiGreens capsules combine therapeutic-grade essential oils (Lemon, Lemongrass, Melissa, and Rosemary) to boost vitality and support a healthy circulatory system.
Super B – contains eight essential B vitamins (1, 2, 3, 5, 6, 7, 9, 12) to increase energy levels and promote nervous and cardiovascular systems. <— Who doesn't need to increase energy levels after having a baby?! Ha!
ClaraDerm Spray – This is what I used on myself post-partum. It was very soothing and gentle. ClaraDerm™ spray soothes dry, chapped, or itchy skin. Its gentle blend of Lavender, Frankincense, and other essential oils is expertly formulated to relieve occasional skin irritations. ClaraDerm™ may be used before and after childbirth. Yes… it can be used, "down there."
After Birth Tummy Oils Combo – I supported my post-partum tummy with a combo of equal parts Geranium and Lavender, plus 5 drops Rose essential oil. I added these oils to an empty 15 ml EO bottle, filled the rest of the bottle with olive oil, and topped with a roller ball cap. I used this immediately after birth, every time I felt a uterine contraction, and then 6-8 times per day for a week or so.
En-R-Gee Essential Oil – I apply this on my feet, wrists, and the back of my neck. Mommas of newborns don't get much sleep, y'all!

We get plenty of snuggles, though! En-R-Gee contains a blend of stimulating oils (Rosemary, juniper, lemongrass, nutmeg, Idaho balsam fir, clove, and black pepper.) that have traditionally been used to help restore mental alertness, uplift, and strengthen the mind as it promotes energy.
Coconut Oil – I love coconut oil for dry or cracked nipples. This is a must for nursing mommas!
Nursing Bra and Tank – I am loving these! They are incredibly comfortable and the straps are easy to maneuver while holding a crying, ready-to-eat baby.
Button-down Shirts – If you are nursing, button-down tops make those first few days soooo much easier. Button-downs tend to be very forgiving in the looks department, and I personally felt less frumpy (as compared to wearing pajamas or a nightgown and robe) when we had visitors, or someone was taking my picture. Of course, there is nothing wrong with living in pj's and a robe for a few days! Whatever feels comfortable is what a new momma should wear.
Grace – Momma, you just gave birth. Whether you had a natural birth, epidural, c-section, whatever, it does not matter. You carried this babe in your body for 40 weeks (give or take). You've been stretched to every limit imaginable. You don't have to be superwoman. You don't have to have perfection. Enjoy your time with baby as long as you can. No, the sleepless nights aren't easy; sometimes they're not even manageable. The thought of getting up again… The constant feeding (bottle or breast), changing, spit-up, and crying can be so hard. Maybe you are like me, and can only think of the things not getting accomplished. Whatever you're thinking and feeling, try even harder to give yourself grace. You deserve it!
*These statements have not been evaluated by the Food and Drug Administration. Young Living products are not intended to diagnose, treat, cure, or prevent any disease.
**All supplements, essential oils, and regimines were either approved or recommended by my midwife.
***If you would like more information on Young Living Essential Oils and products, you can read more here.