So we are in a weird time right now. As someone who has been ordering products, food (even meat!), etc online for y e a r s, it isn't much different for me, but I know it is for a lot of people. We are also concerned about cleaning all-the-things. That, too, has been a thing for me for a long time, although I didn't used to spray my husband down before he came back in the house after work (he is going in one full day to record the church service and two hours on Sunday to run the live sermon). As I write this, he is at the grocery store for me, because we have decided he is the only one going out for our family.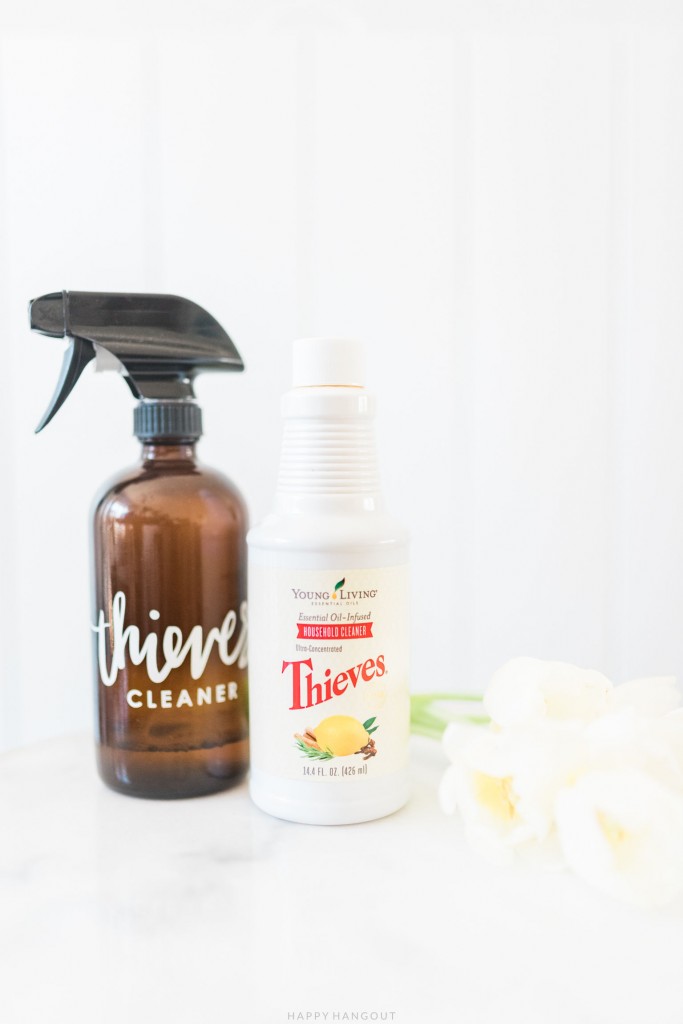 For almost 12 years, our family has worked hard to remove as many toxins from our home as possible. I had horrible headaches for years, and I believe they were triggered by a mixture of candles, scented personal care items, and cleaning products. Once I got rid of  all that stuff, I began to feel much better. Eight years ago, a friend asked me to come to her class on essential oils. I was skeptical, but I went anyway, and that is when I was introduced to Thieves Household Cleaner.
I had been looking for a clean cleaner for a long time, and this was exactly what I didn't know I needed. This is the only cleaner I have used for the last eight years. It is safe for my kids to smell and use. It is extremely gentle but tough at the same time. It is great on grease, ick, and grime. We use it in every room, and to mop our floors. And it is a boss on glass, so there is that. Thieves is also easy on the budget. It is a concentrate, so you can use 1-2 caps of the cleaner to 16-20 oz of water. All you need is a spray bottle! We have a spray bottle in every bathroom, and two in the kitchen.
Thieves Premium Starter Kit
If you're looking for a better way, grabbing a Thieves Starter Kit is a great idea. This kit gets you started making over your cleaning and personal care. It is a great way to baby-step making over your home.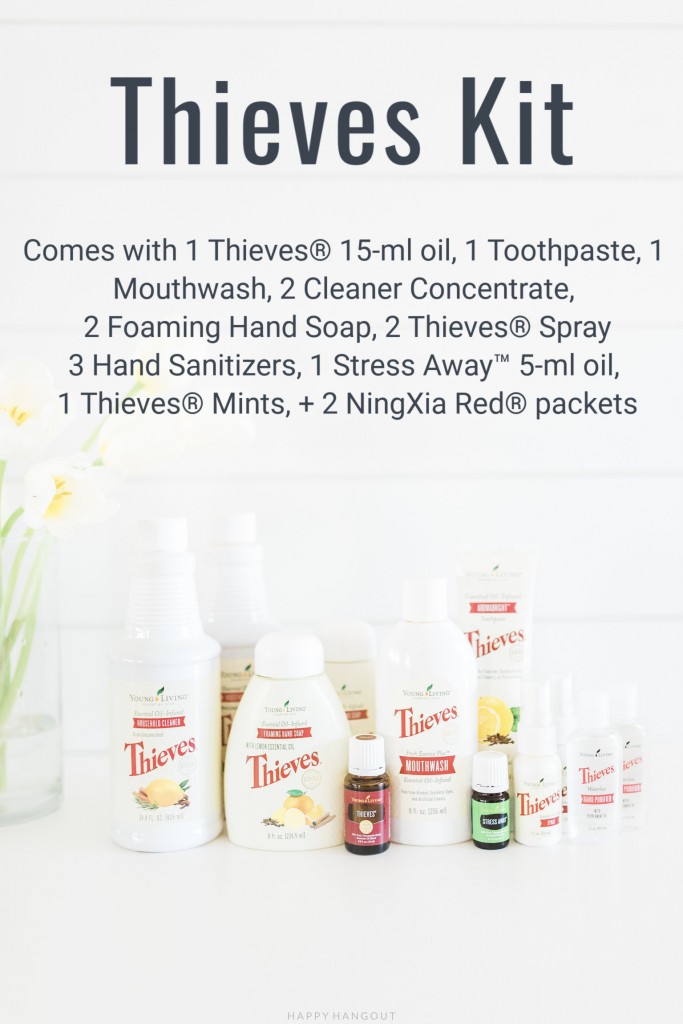 The Thieves Starter Kit comes with:
a 15 ml bottle of Thieves® essential oil – we use this in our diffuser to make our home smell good and clean, and also apply topically to the bottoms of our feet every night before bed.
1 bottle of Thieves® AromaBright™ Toothpaste – a great toothpaste that has clean ingredients. It may be a bit too spicy for younger kiddos, so keep that in mind. (There is a KidScents toothpaste that is perfect for younger ones, so add that to your order!)
1 bottle Thieves® Fresh Essence Plus Mouthwash – we love this mouthwash! It has a clean, refreshing taste, and if it is too spicy for you, you can dilute it with a bit of water and it tones it down quite a bit.
2  bottles of Thieves® Household Cleaner Concentrate – this is the wonderful cleaner that will last you a very long time!
2 bottles of Thieves® Foaming Hand Soap – we absolutely l o v e this soap! It feels so good when you wash your hands, and it does not dry them out like some soaps can. It is also super concentrated, so I usually water it down, and that makes it last longer and work just as well.
2 small bottles Thieves® Spray – these are smaller, travel-size bottles of Thieves spray. They're more concentrated that the cleaner, and we use them in the car to spray the steering wheel, and at the grocery store to spray down grocery carts (we did this before it was cool, too!).
3 Thieves® Waterless Hand Sanitizers – these are in high demand right now. It works incredibly well, kills 99.9 percent of germs, effective at eliminating 99.99 percent of many common, harmful germs and bacteria, and it does not dry out your hands.
5 ml bottle of Stress Away™ essential oil – I love this blend for worry, for calm, and simply as a perfume! It smells amazing, with a dreamy combo of lime + vanilla. So. Good.
AromaGlide™ Roller Fitment – this is a roller top for either the Thieves or Stress Away oils (personally, I would pop it on my Stress Away oil!) to make topical application easier.
1 tin of Thieves® Mints – these are delicious little mints that give you fresh breath.
2 NingXia Red® 2-oz. samples – you get two samples of our yummy antioxidant drink. As soon as your kit comes in, throw these in the fridge. You can drink them at room temp, but our family loves it best cold!
Ready to grab your kit?
Go here: https://tinyurl.com/amy-lifedrops. Click "Other Premium Starter Kits," then click the box next to "2019 Premium Starter Kit with Thieves." Add on any other products either through Essential Rewards (yes or no, and it is optional!), or click "Add More Products" under the Continue Enrollment link. Fill in your address, card info, etc. Then, you are good to go!
**If you grab this kit through the link above, send me an email (amynortonyl@gmail.com) or a text message (580-447-5424) with a screenshot of your order, and I'll make sure you have a spray bottle (+ some other goodies!) to put your new cleaner in!
Thieves Essential Rewards Kit
Once you are a member, you can get your favorites delivered to you on a monthly basis. I explain Essential Rewards here, but basically, you can change up your order every single month and earn points while having your stuff dropped on your doorstep. It is an amazing program, and I've been on it for 7 years. My only regret is not getting on ER sooner!
There is a kit you can get that will save you money over purchasing these items individually. Here is what comes in the Thieves Essential Reward Kit:
1 15 ml bottle Thieves essential oil blend
1 Thieves AromaBright Toothpaste, 4 oz.
2 bottles Thieves Household Cleaner, 14.4 oz.
1 Thieves Mouthwash, 8 oz.
2 bottles Thieves Foaming Hand Soap, 8 oz.
2 bottles Thieves Waterless Hand Purifier, 1 oz.
2 bottles Thieves Spray, 1 oz.
This is a wonderful little bundle to get you started ditching and switching if you're already a member.
There are tons of other fabulous Thieves products you need: laundry soap (another concentrate, so you only need a little!), fruit + veggie wash (SO. GOOD.) wipes, cough drops, and more.
What is your favorite Thieves product?!