For the last three Novembers in a row, bloggers and readers around the country and beyond participated in The 30-Day Giving Challenge. When I presented the challenge to my readers back in 2009 as a fledgling blogger, I had no idea what God had in store for this little project. Thousands joined in through Facebook, Twitter, email and beyond. Countless lives were touched in large and small ways. And the friendships I formed with some of those fellow bloggers is still treasured to this day.
As November crept closer this year, I wondered if anyone would notice if I did not run the challenge once again. Life has gotten busier, blogging, less frequent, and my passion, frankly, had waned. But in October, a few emails and Facebook questions trickled in…
"Is this happening this year?"
"What's this all about? Can I join?"
And in the midst of life's craziness, God nudged me. The challenge MUST happen this year. Somehow, there would be time in the hectic holiday rush for a little giving. And just like that, I announced on Facebook that it was coming. People DID notice. And were excited! Which spurred me on to make it happen no matter what.
Within the last few days, a new team of bloggers formed, some old, some new, to present the challenge this year to our readers. So, dear reader… I must ask. Are you IN?
The idea is quite simple. Grab a journal (or a free printable calendar) and GIVE in some fashion every day in November. This could be large or small, simple or extravagant.
I realize that 30 days may seem like a long period of time. The first week or two will be new, exciting and easy. The second half of the month might get busier, with Thanksgiving, family and travel. The challenge may get pushed aside. But I know there are always opportunities to give your time, talents or resources, if you are willing to be led.
Need some further giving inspiration? All new this year, which I am super excited about, is our Pinterest group board FULL of giving ideas and encouragement.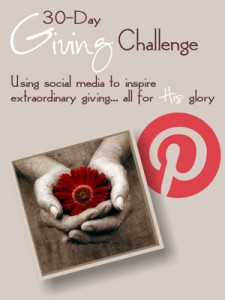 You can now officially RSVP for the Challenge here, and feel free to share it on your wall or invite friends to participate too! You are welcome to post links to causes you wish to support (spam will be deleted), along with comments, photos and videos on the event wall throughout the month.
It will be so inspiring to see what others are doing and learning! I also want to encourage you to get your whole family involved. A journal is just one way to document the process. What about a poster or chalk board? A dry-erase board in your kitchen? Allow your kids to write down ideas or draw pictures of your activities.
These were just a few ideas I had. Please share your ideas for involving your family below in comments!
As we move through November, don't forget to follow the 30-Day Giving Challenge on Pinterest, Facebook, and Twitter (#30DayGive) to be encouraged and share your stories.
Are you ready to GIVE BIG this month?