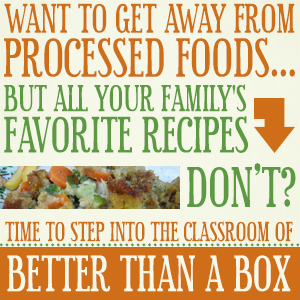 Do you eat real food, but miss your Hamburger Helper sometimes? {raises hand}
Come on, admit it; you know you have at least one boxed, processed meal that you miss eating. Okay, well I do. {grins}
And I have a fantastic new resource for you to once again enjoy that tasty meal, minus the box and processed yuckiness: Katie Kimball's newest cookbook: Better Than A Box. And through tomorrow 8 am EST, you can get the book for it's special launch price of $1.99.
What is Better Than A Box?
If you love cooking with whole foods but miss your old favorites, this book is for you.

Better Than a Box is more than just a recipe book – it's a tutorial in real food cooking, reverse engineering processed foods, and creative recipe development.

In the first 100 pages, you'll learn step-by-step processes to transform your own family-favorite recipes by ditching the boxes and cans and using 100% real food. Through demonstrations of successful recipe remakes and the extensive section of basic recipes, your "Reverse Engineering" toolbox will be well stocked, and you'll be inspired to take courage in the kitchen.
Now. Is cooking from a box easier and less time-consuming? Of course. These recipes won't save you time, but will replace the junk with tasty, real, whole foods. Katie takes special care with her attention to details; when she says step-by-step, she means it. This eBook is full of easy-to-follow, very specific, yummy-sounding recipes, tutorials, and tips. She guides you every step of the way, teaching you how to make your boxed favorites from scratch. She also encourages you to add new flavors and spices to old favorites. This book is a definite go-to for anyone wanting to go more homemade in their food, but aren't sure where to begin.
The book includes:
20 Reverse Engineering 101 "lab" demonstrations: how Katie the processed foods out of favorite recipes and transformed them to whole foods, as well as, before-and-after examples.
35 Remake Resources: the recipes for basic ingredients that you'll need if you want to reverse engineer your own recipes to ditch the processed foods.
25 Ready-to-Cook Recipes with printable recipe cards.
To purchase your copy of Better Than A Box for it's launch price of $1.99, click the banner at the top of the page or go here.
You can also purchase the Kindle edition on Amazon: Better Than a Box: How to Transform Processed Food Recipes into Whole Foods Favorites
I received a copy of Better Than A Box to review. All thoughts and opinions are my own.