If you don't like mushy stuff, read no further, but hang with me if you can tolerate it.
My First Mother's Day, May 2000:
Picture a 21 year old me, unmarried, and pregnant with an unexpected blessing. My friends were probably sipping margaritas on the beach, I was battling morning sickness. The details are fuzzy, but I am sure I paid a visit to my mom and 3 younger sisters, who all still lived at home at the time. Home was a humble mobile home with 3 bedrooms, tucked in a beautiful little canyon in Laguna Beach.
The years leading up to this day were tumultuous. Relationships had been strained. But this Mother's Day was different. My heart had softened towards my mother. There was no arguing, or bitter words. Pregnancy turned my priorities upside down. My family was suddenly important again, and meals were shared.
The moment that stands frozen in time that day was opening a Mother's Day card… my very own. From my Mom. For the first time, I realized that I would be celebrating Mother's Day every year for the rest of my life.
Fast forward to Mother's Day 2001. My baby girl was 8 months old. Her Dad, like mine, was no longer in the picture. I had done a lot of growing up in the past year. My sisters had become teenage Aunts, wonderfully doting and loving Aunts. My Mom had become Grandma, at only 45 years old. She cared for baby Sara while I worked to support the two of us. Life was different, but it was grand.
Mother's Day, May 2005:
This year marked another significant change in my life. I was not only a mother, I was now a wife to a wonderful man. I had a new title as well: step-mom to a son. The first boy in our family. We spent Mother's Day together as a family, a day I will never forget. I did not know it at the time, but I was also expecting. A few days later, we rejoiced… and then cried. My Grandfather lost his battle with cancer the day I discovered our family was expanding.
Not knowing how to comfort my grieving Mother, I decided to tell her that she was going to be a Grandma again. She hugged me and cried… and we both knew this was God's plan.
Mother's Day, 2008:
A bittersweet day. My mother is 1200 miles away, along with my step-son. We had a wonderful, lazy morning, complete with breakfast in bed. We enjoyed a special service at church, and then an afternoon picnic lunch at the park. The baby I was expecting 3 years ago is now a vibrant 2-year old little princess who has Daddy at her beck and call. Sara is a feisty 7-year old who could not be a better big sister.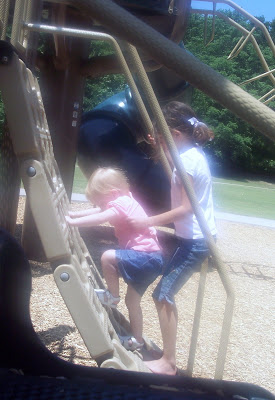 May 11th marks the date that my Grandfather left his earthly home. My Mom spent the day with his wife to honor his memory.
I love to say that I made my mom a mom (since I was first and all), and then I made her a grandma! But really, Mom, I would not be the mother I am were it not for your strong spirit and caring hands. I love you!