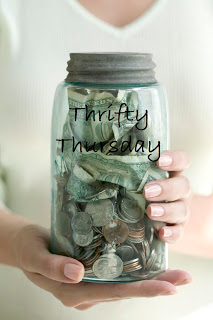 My latest thrifty discovery is a recipe for homemade breakfast syrup.
A kind reader (thanks, Kim!) shared this frugal find:
2 C Sugar.
1 C water
1-2 T Corn
Syrup
(if you have it)
Pinch Salt
1/2 tsp. Adam's Best Imitation Maple Flavor
Bring the water, sugar, corn

syrup

(if using) and salt to a boil. Continue boiling for one minute.
Remove from heat.
Add extract, stir.
Refrigerate leftovers.
*Makes about a pint of
syrup
. I think it costs about 50 cents, or at least it did six months ago when I priced it. The corn
syrup
raises the cost a bit, but it keeps the sugar from re-crystalizing, so it is worth it if you are going to store some for more than a week.
If your kids are picky eaters like mine, syrup is a must. Consider the ingredients in typical store-bought syrup:
Water, sorbitol, cellulose gum, natural and artificial flavors, salt, sucralose, sodium benzoate, phosphoric acid, acesulfame potassium… and the list goes on. Sounds appetizing, huh?
A bottle of Mrs. Butterworth's averages $2.89 at the grocery store, so why not simply make your own? It's not only frugal, but healthier too!