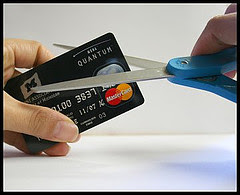 Today was a great day. It marked a monumental change in our lives. Much to my surprise, Hubby paid off our very last credit card. In full.
This is the first day of our married lives that we can actually declare that we have zero credit card debt. Wow. I can hardly believe I am typing this!
Early in my blogging days, I shared some personal goals. This was number one:
1. Completely eliminate consumer debt by July 2008 (excluding mortgage, cars, and student loans).
"The wicked borrow and do not repay, but the righteous give generously" (Psalm 37:21)
July 3rd, 2008. Mission accomplished! So why am I surprised? I suppose it is because I have become so accustomed to having debt, it actually feels strange.
I have had credit card debt for nearly all of my adult life. This new feeling is truly amazing. Freedom! Of course, there is more debt to tackle, but this is a major baby step in our frugal journey.
Setting a concrete goal was a big factor in how quickly we paid things off. One year ago, we had roughly $7000 in credit card debt. When our frugal journey began, I never imagined this day would come so soon.
I can honestly say that without completely changing our lifestyle and shopping habits, we would still be making minimum payments. It all began with couponing. Then CVSing. Then a little help from Uncle Sam didn't hurt (tax refund and economic stimulus).
We started with our smallest debt first, Dave Ramsey style. Then we crossed them off the list one by one. Tackling the 2 remaining car loans and student loans will be a challenge. But I have never felt more ready!
I share this with my frugal friends in hopes of encouraging you. It can be done.
I leave you with some recommended reading about Credit Cards and Debt:
Bible Money Matters- Credit Card Rewards- Are They Really Worth It?
Frugal Dad- How to Get Out of Credit Card Debt, and Stay Out
Gather Little By Little- What Does the Bible Tell Us About Debt?