This is Sara in her special Christmas apron.
I did not grow up with many Christmas traditions. When I got married in 2004, it was important for me to start my own. Of course, I had no idea where to begin, so imagine my delight when I received this special kit from a relative.
"The Sweetest Story Ever Told" – It is actually no longer available in stores, but the concept is easy to duplicate.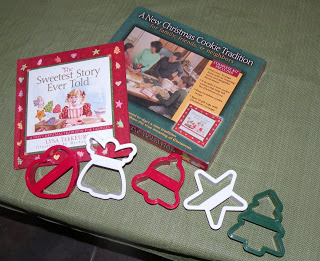 You'll need a simple sugar cookie recipe, like this one:

And 5 cookie cutters
- a star, a heart, a tree, an angel, and a bell. Each shape represents part of the Christmas story.
Get the kiddos involved and make as many sets of the 5 shapes as you can manage. Allow to cool, and decorate as you wish.
We pass out the completed sets in Christmas containers to neighbors and friends, with an explanation.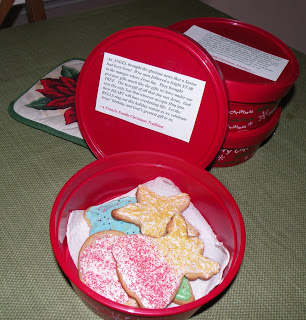 Here is what the attached tag says:
"An ANGEL brought the glorious news to the shepherds that a Savior had been born. Wise men followed a bright STAR to the manger where Jesus lay. They brought precious gifts much like the gifts we have under our TREE. The best gift of all that day was Jesus. God sent His only Son that whoever accepts Him into their HEART will have life everlasting. Let the BELLS ring out this holiday season as we celebrate Jesus' birthday and God's greatest gift to us."
The kids look forward to this special project every year. It is a wonderful tradition that not only focuses of the miracle of Christmas, but demonstrates the joy of giving something from the heart.
I actually discovered the book is available on Amazon.com- for $69! Apparently since it is out of print, it is a rare find. You can certainly enjoy this tradition with or without it.