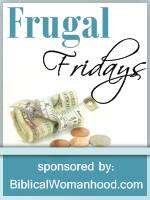 A frugal friend of mine recently passed along a very insightful book:
Eat Healthy For $50 a Week by Rhonda Barfield
This book was published in 1996, and is no longer in print, although you can still find a few copies on Amazon.
It is full of practical meal planning advice, including satisfying picky eaters on a budget (an issue in my home).
Of course, 13 years later, the prices have adjusted, but over all the recipes are simple and budget friendly.
One recipe struck me as particularly useful, so I felt inclined to share it with my frugal friends. I am never buying Taco Seasoning again! Not because I don't like tacos, they are a weekly staple in our home.
But you likely have all the ingredients for homemade Taco Seasoning already in your spice collection!
Taco Seasoning Mix
Combine:
2 tsp chili powder
2 tsp dried parsley flakes
1 1/2 tsp cumin
1 tsp paprika
1 tsp onion salt
1/2 tsp oregano
1/2 tsp garlic powder
"This recipe is equivalent to a 1 1/4-oz package of store-bought seasoning mix, and cheaper, especially if you buy spices in bulk and/or at a discount."
You could also use this mix in chicken enchiladas, or similar dishes. I appreciate the lack of preservatives and fillers in this simple recipe. Not to mention the paper waste you are eliminating from those seasoning packets!
I also shared a recipe from this book previously, for homemade pancake syrup. How frugal!
Enjoy!