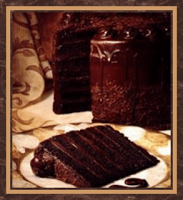 The following is a guest post from another long-time reader, Lisa of Stop and Smell the Chocolates. I first fell in love with Lisa's blog because I am a fellow chocolate addict lover.
In my first trimester of pregnancy, I had a sudden aversion to all things chocolate and was worried that I had lost my mind! Thankfully, that was short lived, and I am back to my normal chocolatey self. For a satisfying chocolate fix every week, subscribe to Lisa's RSS feed.
Hi, I'm Lisa from Stop and Smell the Chocolates! I am so happy for Alyssa with her new baby boy! She deserves a break and I'm happy to help out with a guest post.
When Alyssa suggested I write about some kind of frugal chocolate, I though it was a great idea! I just happen to love chocolate. But I also have the desire to be frugal, even more so with our current economy.
I came up with a few frugal ways to enjoy chocolate:
1. You can enjoy chocolate in the form of beverages. You could have a mocha or some hot chocolate.
I even have a couple of recipes for mixes that you can make yourself (even more frugal): Fireside Coffee Mix and Vanilla Hot Chocolate Mix.
2. You can also enjoy chocolate "straight." The problem with buying cheap chocolate is that it doesn't satisfy that craving and you end up eating more of it. You might spend a little more on a high quality dark chocolate bar or some really nice truffles, but then you can just enjoy a tiny bit at a time and it will last you longer.
3. How about a frugal chocolate dessert? I found this cake recipe at Cooks.com and it doesn't even contain eggs.
SIMPLE CHOCOLATE CAKE

1 1/2 c. flour
1 c. sugar
1/2 tsp. salt
1 tsp. baking soda
3 tbsp. cocoa
1 tbsp. vinegar
6 tbsp. oil
1 tsp. vanilla
1 c. water

Sift first five ingredients together, add remaining ingredients. Pour into 8 inch greased and floured round pan. Bake at 350 degrees for 30 minutes, let cool and frost with your favorite frosting or confectioners sugar.
The cheapest chocolate cake mix I usually find is 98 cents and then you still have to add in expense of eggs and oil. I do believe if you do the cost analysis on this recipe, you'll find that it is even more frugal than a cheap cake mix.
4. Free samples of chocolate are always nice. Stop in the candy stores in your mall. At our mall, Harry & David always gives a sample when you're looking around in there and it's usually chocolate. Also, See's Candy gives free chocolate samples when you stop in. Can't get more frugal than free!
5. If you are a chocolate-lover like I am, then I'm sure I don't need to tell you to shop for chocolate right after each holiday for the best sales. If you have willpower and a place to store it, then stock up!
In frugal times, there is no need to give up chocolate! Just find new ways to have it and pay closer attention to how much you're paying.
What are some of your methods for getting a chocolate fix within a budget? Share here in comments!
Lisa