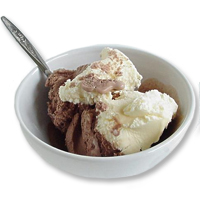 A huge part of a frugal lifestyle is reducing waste and using what you have. I am the first to admit I definitely have room to improve in this area.
Especially when it comes to food. Your grocery budget can stretch a whole lot further when leftovers are being utilized and food is not being thrown out!
Y'all know how much I adore my ice cream. But freezer burn can be a major bummer! Ice crystals form in a matter of days, especially in larger cartons like the gallon of Blue Bell calling my name sitting in my freezer.
Luckily, there is an easy prevention method. I wish I had learned this trick years ago!
Here is my simple way to prevent freezer burn on ice cream:
Simply place a layer of plastic wrap over the ice cream (pressed down) before sealing the lid. No more freezer burn.
Now I enjoy my ice cream down to the last spoonful. And that… is frugal.
Welcome, Walmart fans! If you enjoyed this tip, I hope you will take a moment to learn more about me, and become a Facebook fan of KingdomFirstMom.com. Thanks for reading!