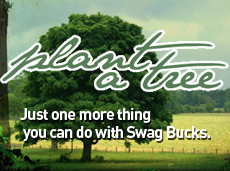 I make no secret of my love for Swag Bucks. My search engine of choice, I earn Swag Bucks each day and typically cash them in weekly for $5 Amazon Gift Cards.
But yesterday, I discovered that for only 15 Swag Bucks, you can actually plant a tree in one of 7 reforestation projects around the world! How cool is that?
Simply go to the Swag Store, and snag the Plant a Tree prize.  Once it is credited to your account in gift cards, you redeem the code through Seed-the-Future.
From their website:
Each year as many as 6 billion trees are cut down globally and your donation today is helping to combat global deforestation.
By working with us, a tree (or several) will be planted in your name in a large-scale reforestation project that will help to reduce the effects of global climate change.
Worried that one tree won't do much? You shouldn't be! In a tree's lifetime it will absorb more than 2,400 pounds of CO2!
I redeemed mine today and opted to plant a tree in the country of Honduras, which is where my church does Missions outreach. For only 15 Swagbucks, I am happy to give back a little!
If you are new to Swag Bucks, sign up here, and automatically receive your first 3 bucks in your account!  You will be well on your way to planting a tree.