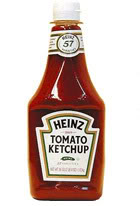 Frugal people have a natural tendency to stretch their resources as far as possible. Reducing waste, in any form, will ultimately save money.  It is also an important aspect of being a good steward.
One of my biggest parenting struggles is teaching my children the negative effects of wastefulness. I strive to carefully conserve everything from milk to energy and even toilet paper! Much of this habit comes from my upbringing, so I can only hope I can instill in my children what my Mother did in me.
One little trick I use to reduce waste requires nothing but a little H2O.  It is nearly impossible to squeeze the last few tablespoons of ketchup or shampoo out of a plastic bottle. Just add water-a few quick drops- then shake! The remaining product comes right out.
This is especially effective in the kitchen. The last of that sauce or marinade you are using in a recipe is not effected by a little water. Casseroles and soups will never know the difference.
Other products you can "stretch" with a little water:
lotion
cleaning solutions
handsoap
liquid laundry detergent
Unfortunately, this trick does not work on toothpaste.

What are some other simple ways you reduce waste in your household?
For more frugal fun, visit Life As Mom.