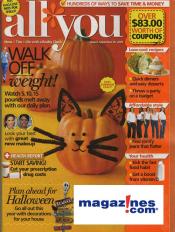 I am always on the lookout for a great deal on ALL YOU Magazine.
Not that I am much of a magazine reader. Really, I just don't have the spare time or desire to flip through glossy pages of ads or celebrities.
But I do actually subscribe to and read ALL YOU. Not only is it truly a great resource for frugal tips, recipes, and more, it is chock full of one of my favorite things- COUPONS!
Now, you know that I'm not one to advocate actually spending your hard-earned money on a magazine subscription, but I think this one warrants an exception. Consistently month after month it's full of great coupons that you won't find anywhere else. Better yet, often there's at least one coupon that's for a free item.
Where do I purchase ALL YOU magazine?
ALL YOU magazine can only be purchased at Walmart ($2.24 per issue) or through a subscription ($21.24 per year).
How do I subscribe?
You can purchase a subscription online through Amazon.com, and now also through Magazines.com!

But, to get the $13.68 price for one year (currently the best deal out there), you will want to shop through Big Crumbs.
Big Crumbs, like Ebates, is a great way to shop online to earn cash back on all your purchases. I recommend checking both sites before making an online purchase to see who has the best deal.
Ordering Instructions for ALL YOU (please read carefully):
1. Become a member of Big Crumbs if you are not already.  There are different membership types, but you will want to be a "CrumbSaver" to get the highest rebate amount possible when shopping.
2. Confirm your Big Crumbs membership via email, and log in to your account.
3. Type "Magazines" in the search box at the top of the page.  Click on Magazines.com in the search results, and a new window will open.
4. Search for "ALL YOU" on Magazines.com.  You will see an option for 12 issues for $19.97, add it to your cart.
5. Complete the secure check out process – there is no tax or shipping.  You can even pay via Pay Pal or Google Checkout!
6. Wait 6-8 weeks for your magazine to arrive. Magazines.com has a 100% guarantee for all magazine subscriptions. You can cancel at any time, for any reason.
7. In 2-3 days, you will receive your 31.5% rebate in your Big Crumbs account ($6.29). You must have a Pay Pal account to receive your refund (paid monthly on the 15th).  There is no minimum payment threshold.
So, once you receive the refund, your final cost is only $13.68, or $1.14 per issue. While it may seem a bit complicated, I assure you, the coupons are well worth it!
I am not sure how long this promotion will last, so if you are considering an ALL YOU subscription, don't delay! The offer is also good for renewals, or would make a great gift for a fellow couponista.
Thanks, Deal Seeking Mom, for the heads up on this deal!