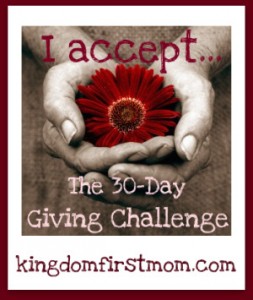 November 1st is right around the corner, and with it comes the start of  The 30-Day Giving Challenge (oh, and Daylight Savings ends too!)
I have been thinking and praying and planning for this Challenge every day. The excitement is building, and the response has been amazing so far!
My Pastor spoke about generosity once again this week, and I was even more convicted about making giving a priority in my life. The 30-Day Challenge is a great start, and hopefully a way to inspire a lifetime habit of giving intentionally.
A few thoughts about this process have been stirring in my mind. I realize that 30 days may seem like a long period of time. The first week or two will be new, exciting and easy.
The second half of the month might get busier, with Thanksgiving, family and travel. The challenge may get pushed aside. But I know there are always opportunities to give your time, talents or resources, if you are willing to be led.
This verse was laid on my heart:
Let us not become weary in doing good, for at the proper time we will reap a harvest if we do not give up. Galations 6:9
Post this verse on your fridge or mirror, and remember it each day next month.
In an effort to encourage those without blogs to participate as well, I created an event on my Facebook fan page. You can now officially RSVP for the Challenge here, and feel free to share it on your wall or invite friends to participate too!
You can also post links to causes you wish to support, along with comments, photos and videos on the event wall throughout the month.
It will be so inspiring to see what others are doing and learning! I also want to encourage you to get your whole family involved. A journal is just one way to document the process.
What about a poster or chalk board? A dry-erase board in your kitchen? Allow your kids to write down ideas or draw pictures of your activities.
These were just a few ideas I had. Please share your ideas for involving your family below in comments!
If you are on Twitter, feel free to use the official hashtag for The 30-Day Challenge so we can all follow along with your giving adventures:
#30dayGC
Bloggers can also grab a clickable badge for your sidebar or posts if you wish. The code is under the button in my right sidebar.
I can hardly wait until Sunday! In the meantime, go read this very inspiring post from Mom Advice about how you can help the unemployed. Perhaps you can implement a few of Amy's frugal suggestions next month!
There is still time to get involved if you would like to donate a product or service for the Challenge. Email 30daygivingchallenge (at) gmail (dot) com with your ideas or questions.