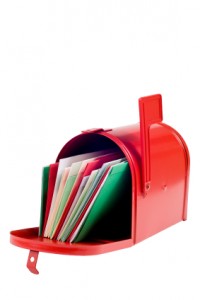 Although the leaves have just begun to fall, now is a great time to start thinking about this year's Christmas cards. While mailing cards every year is certainly not a necessity, it is a tradition that I love and one that I am willing to pay for.
There is nothing better than a mailbox full of Christmas cards in December! I love to catch up with old friends and display their photo cards all month long.
Save yourself extra time and headaches by preparing for the biggest mailing you probably do all year now. Updating your address book is a great start, but what else?
Here are 6 simple ways you can trim that Christmas card budget:
1. Photo Cards. By far the most popular option these days, there are many ways to reduce the cost of custom photo cards:
DIY photography- Instead of paying a studio, use your own camera and perhaps a friend or tripod to capture that perfect family photo. Natural light is the most flattering, so get outside and get creative!
Attire- Dress the family in neutral pieces that you already own, rather than investing in new matching outfits.
Printing- Be on the lookout for a great deal through Snapfish or other online services. Pick them up in-store rather than pay for shipping if possible.
Make your own photo postcards with regular 4×6 prints and cardstock.
2. Trim your list. Do not send cards to people out of duty or obligation. Eliminate those that are not necessary.
3. If you prefer store-bought cards, stock up after Christmas for the following year. Most retailers slash prices big time after the holiday rush. The Dollar Store is also a great option for bargain holiday cards.
4. If you already have supplies on hand, hand-made cards are a frugal and meaningful gesture. Get your children involved for an extra special touch.
5. Hand deliver cards to local friends and relatives to save on postage, provided you are not driving out of your way to do so.
6. Print your own address labels at home if possible. Vista Print is also a very frugal option for your printing needs. Right now you can get 140 custom address labels FREE, just pay around $3.00 for shipping!
Now if only that perfect family photo for the Christmas card was that simple.
What tips would you add to the list for saving money on Christmas cards?
For more frugal fun, visit Life as Mom.