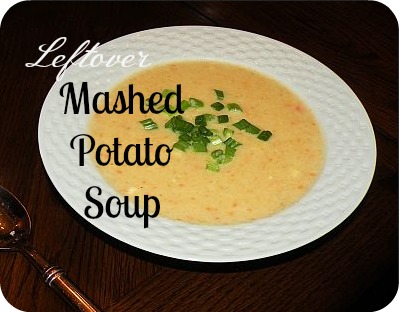 I was craving soup tonight after a wet and chilly day in North Texas. Wanting something simple yet hearty, creamy potato soup is always a favorite in my home.
However, I was not in the mood to peel and boil potatoes. With a fridge still full of leftovers, I decided to do the lazy frugal thing and utilize my Thanksgiving mashed potatoes! Reducing waste is a key factor in a frugal lifestyle. So why not repurpose those leftovers?
I decided to do a variation on two recipes for potato soup from two of my favorite bloggers. Lynn's Panera Creamy Potato Soup and Toni's Healthy Cream of Potato Soup.
Here is my quick and easy version which I dubbed Leftover Mashed Potato Soup:
3 cups(ish) mashed potatoes
1/2 white or yellow onion
2 carrots chopped
2 sticks celery chopped

1 cup cauliflower cut into pieces

2 cups chicken broth
1/4 cup milk

1/2 cup shredded cheddar cheese
1 (8 ounce) package cream cheese, cut into chunks, room temperature
salt and pepper to taste
I used my new favorite food processor/blender, The Ninja Master Prep, to mince the carrots, celery, onion and cauliflower.
Pour the finely minced vegetable mixture into a large pot. Add chicken broth, milk and seasonings. Bring to a boil, then reduce heat and simmer. Slowly add the cheeses and the mashed potatoes, stirring frequently.
Simmer for approximately 10 more minutes, stirring frequently.
Serve with some warm bread. Ladle into bowls and garnish with more cheese or green onions.
My version is not quite as healthy as Toni's, but at least I managed to sneak some veggies in with all that cheese.

By the way, those mashed potatoes were made with straight up half-and-half and butter, just the way I like 'em, y'all!
My children and hubby thoroughly enjoyed this hearty soup! Next time you have some leftover mashed potatoes, consider freezing them for soup later. You'll be wasting less, and serving a wholesome and inexpensive meal to boot.
That works for me!