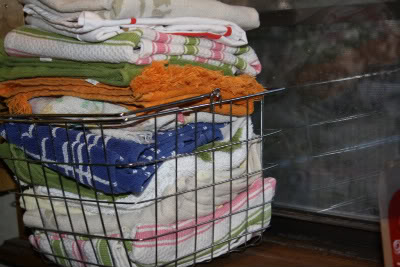 The following is a guest post from Amy of Amy Loves It! Amy is also an expert on saving money in a small town.
Living Without Paper Towels
It has been almost five months since paper towels have graced our home, and I can honestly say I do not miss them! I remember putting our last roll in the kitchen and telling my husband to, "enjoy these, because when they are gone, they're gone!" I simply stopped buying paper towels because I could not justify spending the money on future trash.
Now, this may sound crazy to you (and my husband did think I was crazy!), but let me tell you it is possible to live without paper towels. In fact, the transition has been easier than I thought it would be. My husband did miss the ease of snagging a paper towel, but he soon did not mind just grabbing a regular towel instead. It has now become an automatic response for both of us.
Our family uses towels for everything: spills, cleaning, wiping up grease, dirt and messes. I have 3 sets of towels or rags, with each set having a specific job.
My main set of towels sits in the window sill, ready to be used to dry dishes.
The second set lives in a drawer beside my stove. These towels are for wiping greasy pans and cleaning up spills.
The third set is under my kitchen sink, to be used for cleaning or for those messes that are really bad. These are rags that I do not mind parting with, if necessary.
I keep the main and second set towels clean by rinsing them out (if needed) before washing. I will rinse the cleaning towels before washing, unless they are too yucky. In that instance, they go in the trash. I do not mind having to toss a few old rags; for our family, it is much better than throwing away tons of paper towels. And those rags are old, stained towels or tee shirts that would have been unusable anyway. They have found a second life as rags.
So, what is the real difference? In my opinion, there is really no difference. I have to wash towels a few times a week anyway, and throwing a few extra in has not made an impact on my laundry duties.
The BIG difference is not buying a wasteful product, and not spending money on an unnecessary item.
Why not try it for yourself? Commit to using only reusable towels for ONE week. It really is not as hard as it might sound, and it is a GREAT way to start a green and frugal life!
Have you tried living without paper towels? Did you survive? Why or why not?
Amy's life is explained in three words: happy, hectic, and blessed.  She writes at Amy Loves It, where you can find everything from frugal living tips to ministry to ways to show your husband love. You can also find her on Twitter @AmyLNorton.
For more frugal ways, visit Life As Mom.