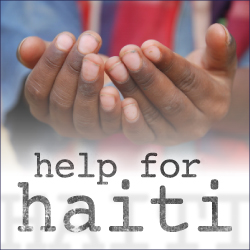 As I see the horrific images on the news of the suffering in Haiti, my heart aches and longs to help. What can we do from the comfort of our sturdy, intact homes?
Yesterday, I told you about how one blogger stepped up to the plate to collect donations for the earthquake disaster. I purchased a few raffle tickets myself.
But I knew I could do more.
I have donated a one month ad spot here on my blog to be raffled off at Hope for Haiti. For as little as $1.00, you have a chance to win. All money received will be donated directly to Compassion.org and The Red Cross. More information about the donations can be read here.
I was also inspired by Crystal's call to action. She has challenged bloggers and readers alike to step up and help the people of Haiti.
For every person who leaves their link to a blog post about how they are making a difference, she and her husband have committed to donate $10.00 to Compassion's outreach in Haiti.
She will also donate $0.30 to Numana to provide one meal for a starving person for every comment or email with details on what you specifically did to help.
Crystal invited bloggers to host link ups as well, while making a financial commitment to donate. I thought long and hard about her invitation and talked it over with my husband.
My blog has provided ways for me to give in the past, and it continues to do so.
I am pleased to be partnering with White Cloud, a brand I respect and use in my home, over the next 6 months on a new campaign. I will be posting from time to time about my experience with White Cloud products. This opportunity was a unexpected blessing for me as a blogger, and one that is compensated.
I am committing to donating a portion of my blog earnings from the campaign to Compassion's outreach in Haiti. Compassion is a charity that I trust and support. My family sponsors a child through Compassion each month.
Leave your direct link below to your post about how you are helping the people of Haiti. I am pledging $1.00 for every link, up to $500.
Even if you are not able to give financially, each one of us can do something. Pray. Blog. Get creative.
If you are looking for creative ways to help, swing by the links as they get added to see what others are doing. Then join in.
PS: You can text "HAITI" to 90999 to donate $10.00 to American Red Cross relief for Haiti right away. How easy is that?