One of my blogging goals this year was to write more about debt.  I have shared a bit about my debt history, but since everyone's journey looks a little different, I wanted to share with you a fellow blogger's perspective. The following is a guest post from Shelly of Coupon Teacher.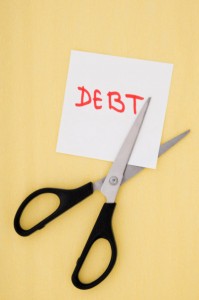 I am guest posting on Keeping the Kingdom First today to tell you my debt story. I am sharing it with the world for the first time, because I am still a little ashamed of how we got ourselves into this mess. This story has a happy ending, but let's get the background first.
Imagine two young in love newlyweds. Now imagine those newlyweds moving 5 hours from any family. Next assume those two newlyweds have entry level jobs as a teacher and survey assistant. Now you know where I was in fall of 2003: the year hubby and I dove into major debt.
In the fall of 2003, I was accepted to graduate school, and hubby was going to get a second associate degree. Sure, our jobs paid for some of the tuition, but what about the rest of the tuition, books, gas, and meals eaten on the go? Welcome Citibank into the picture.
Now I am not sure how someone can go from no credit card debt to five figures of debt in a year, but we somehow managed it. (If you are reading th,is mom or MIL, breathe, we are okay).  Not only did we manage it, somehow we got approved for a mortgage on our first home in the spring of 2004. School expenses, home remodeling, and traveling to visit family once a month. You can see where this is going…
By the summer of 2005 when we both graduated, we were $XX,XXX in debt! I am sorry. I just can't stand to fill in those X's. It is too embarrassing still for me. The worst part of all was that Citi kept raising our interest rates, although we were paying on time and more than the minimum. This went on for over a year, and instead of shrinking, our debt kept growing.
We felt hopeless.
We had to so something. We prayed each night for a way out of the mess we had created.
That was when someone introduced me to the Grocery Game (yes, Alyssa would be proud). I started saving quarters and dimes using coupons. Then my savings grew. Before I knew it, I had a stockpile, and we were no longer living paycheck to paycheck.
We still had the Citi problem, so we transferred our HUGE debt to a low fixed rate personal loan (I know Dave Ramsey would cringe, but it has really worked for us). Then we started to pay. We would save on groceries and pay the loan. Saving, Paying, Saving, Paying.
I quit the Grocery Game (sorry Alyssa), and I now do my own coupon matchups to save money. But the principles of couponing and the message of being frugal I learned stayed with me. As a matter of fact, I am now teaching others. I will be the first to admit, we still make money mistakes. We have gone on vacations we shouldn't have, and we have blown money on silly things we shouldn't have. But my message to you is that there is hope for those of you in this situation!
In the last three years, we have reduced our debt by about sixty percent!  By the end of this year and maybe sooner, we will no longer owe any balance on the personal loan. Next we will be working on paying off our house and cars. I have learned so much about how to be a better wife, steward, and teacher along this path. God works in mysterious ways, doesn't he?
Shelly is a full-time fourth grade teacher and blogs at Coupon Teacher. She wants you to share and celebrate your successes with her, and she may give you a few tips along the way!