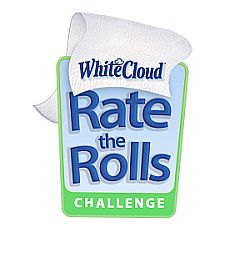 Let's get right to the point, shall we? There is no easy way to begin a post about toilet paper. And that is what this is. My friends have affectionately dubbed me a "toilet paper blogger". Nice, huh? Ahem.
Since I enjoy sharing products and brands that ultimately save my readers money, the White Cloud Rate the Rolls Challenge continues…
Did you try the secret switch? Now for the big reveal. White Cloud challenged me to see if I could tell the difference between a regular roll of White Cloud and the new Green Earth roll.  I could not.
Roll A, the larger roll, was the White Cloud Green Earth bath tissue! Pretty amazing.
So, that begs the question… are you a buncher or a folder?  That was one of the topics discussed during my recent trip to Blissdom, made possible by my sponsor, White Cloud.
Seriously, there is research on this stuff, y'all. Not exactly typical dinner conversation, but it led to lots of laughs and even an impromptu Twitter poll.
I really enjoyed meeting and hanging it out my fellow toilet paper White Cloud bloggers, pictured below.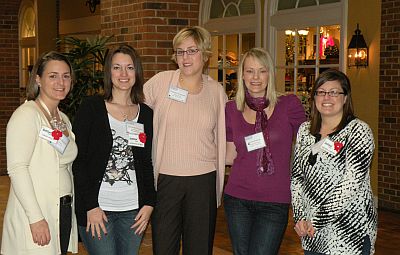 Sarah, Miranda, Sommer, me and Briana at Blissdom.
I also had an opportunity at Blissdom to hand out special business cards (printed on recycled paper, of course) which contained a unique coupon code for a FREE 4-pack of White Cloud Green Earth bath tissue. Did you get one?
The coupon must be redeemed by 3/6/10 and expires on 3/16/10.
Well, I have some great news for those of you who did not attend.  I have leftovers! Over the next week, I am giving away 50 of these special coupon codes through my blog, Facebook and Twitter.  Who doesn't love free toilet paper?
Here's the scoop:
Follow me on Twitter and watch for a chance to win!
Become a Fan of Keeping the Kingdom First on Facebook, and stay tuned for more details.
Leave comments on other blog posts, winners will be randomly emailed.
Leave a comment below.  The first 15 commenters on this post will be emailed a unique code!
Everyone can enjoy this exclusive $1.00/1 White Cloud printable coupon. Print yours, then check out this awesome scenario over at Deal Seeking Mom.
Stay tuned for Part 3 of the Challenge, where I receive yet another mystery package!
Disclosure: White Cloud has compensated me for my time spent on this project. As always, all words and opinions are my own.