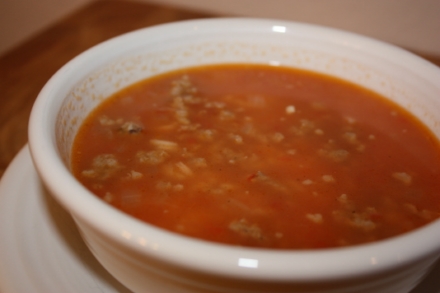 The following is a guest post from Lynn of Lynn's Kitchen Adventures.

I love to make soup, especially this time of year. Soup makes a perfect meal for a cold winter day!
What I love about this soup is how quick and easy it is to prepare. This is one of those meals that you can put together in just a few minutes. From start to finish this takes about 30 minutes and most of that is the cooking time. We all need meals like this for days that we don't have time to cook!
Yes, you can open a can of soup and have it heated up in five minutes, but trust me this tastes so much better. Once you start making quick and easy soups like this, the canned soups will never be the same.
Not only is this a quick and easy recipe, it is also frugal. This meal costs less than $5 and it feeds my whole family! Serve it with bread or a salad, and it will stretch even farther.
Tomato Rice Sausage Soup
1 tablespoon oil
1 lb of sausage, I used the ground style sausage
1/2 yellow onion, minced
1 garlic clove, minced
1 can diced tomatoes
4 cups homemade chicken broth
1/2 cup long-grain white rice
1/2 teaspoon apple cider or white vinegar
sea salt and pepper to taste
Heat oil in a 4-quart saucepan over medium-high until hot. Cook sausage, stirring occasionally, until browned, 3 to 5 minutes. Add onion, and garlic. Cook over medium-low, stirring occasionally, 6-8 minutes or until onion is tender.
Add tomatoes, stock, and rice; bring to a boil. Reduce heat and simmer until rice is plump, about 20 minutes.
Remove from heat. Stir in vinegar, and season with sea salt and pepper to taste.
Lynn is a homeschooling mom of three. She loves to cook and try new recipes. She blogs at Lynn's Kitchen Adventures, sharing recipes, tips, and ideas to help you meld a love of cooking with a busy life.