Hey, Texas readers, have you heard the big news? ALDI is finally here!
I first heard of Aldi a couple of years ago while perusing one of my favorite blogs, Mom Advice.  I was intrigued by the no frills discount shopping approach, but quickly disappointed when I realized there were no Aldis in Texas. That all changed this week!
The Grand Opening preview of my local Aldi was quite the event. Doors opened to long line of eager shoppers, just waiting to peek inside.  Promises of free goodies and samples lured a huge crowd, myself included.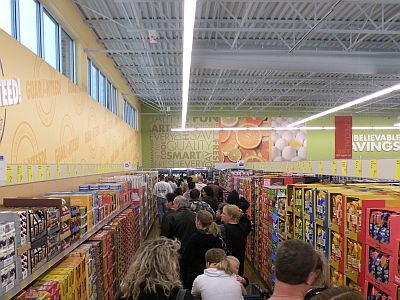 I loaded up my kidlets and met my friend Kim for my first glimpse of Aldi yesterday. We were practically giddy over the shiny new store and the amazingly low prices! Are we geeks, or what?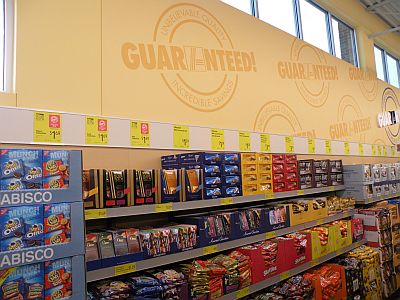 I was especially impressed by the prices on staples such as dairy and juice.  Their hormone-free milk is priced at $1.79 a gallon!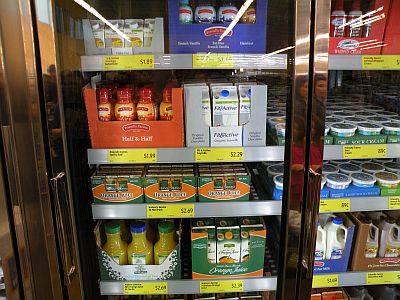 Our children enjoyed the unlimited samples of snacks, while we ooed and ahhhd over the produce prices.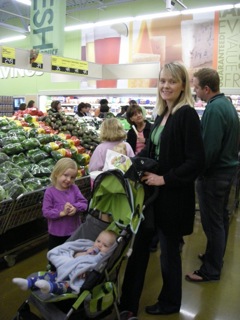 Even their meat selection was impressive.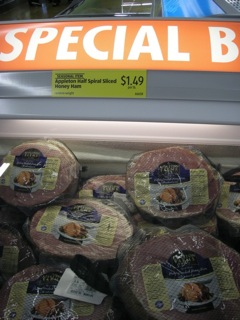 Colin enjoyed a few samples himself.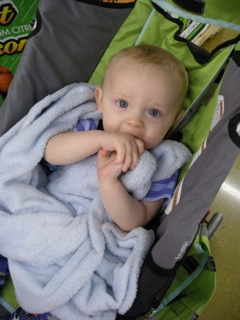 But the best part of the whole day, hands down, was the fun that followed at home. Each guest at the special preview received a jumbo reuseable tote filled with goodies at the door. They were kind enough to give one to each child as well.
The girls decided the totes are much more useful as toys, potato sack style, and proceeded to have races around the kitchen.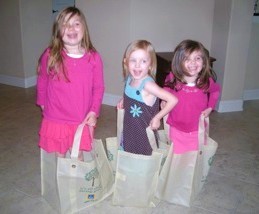 Of course, these bags will come in handy for shopping at Aldi, since bags there actually cost money. Bringing your own is the way to go! Even the carts buggies will cost you a quarter.
Although Aldi does not accept coupons (gasp!), I can certainly see how a family can enjoy a smaller grocery budget by shopping there. Just remember to take those reuseable bags!
So, seasoned Aldi shoppers: What are your favorite things to purchase at Aldi? What are some things to avoid, if any? I would love to hear your tips!