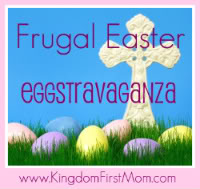 My childhood memories of Easter, aka Resurrection Sunday, mostly consist of candy and getting all dressed up for church. It was an event. Fun? Yes. Meaningful? Not really.
I was well into adulthood before I truly grasped what the glory of Easter is all about. Now as a parent myself, I struggle with balancing the over-commercialized candy fest and meaningful traditions.
My favorite season is Spring and all that comes with it.  Including Easter. A reason to celebrate our Savior's Resurrection without the pressure of gifts.
Easter baskets, egg hunts, chocolate, jelly beans, bunnies and an elaborate feast. They may or may not be part of your family's Easter activities.
How can we make Easter memorable and meaningful without breaking the bank?
I want to hear your ideas! Bloggers are welcome to join my Frugal Easter Eggstravaganza all week long.
But wait, there's more! One lucky participant will be randomly selected to win a $50.00 Visa Gift Card to make your Easter a little easier on the budget.
Guidelines:
Please link 

directly to your post

, not your homepage.
Link back to the Frugal Easter Eggstravaganza in your post.
Share family friendly ideas, crafts, recipes, decorations, traditions, etc.
Feel free to grab the clickable button above for your post.
Visit other bloggers' links and spread a little comment love!
This contest is for my fellow bloggers. Comments  are most welcome, but will not be counted as entries.
*Updated: The contest is now closed. Congratulations to entry #23, selected at random. Susan of Organic Deals and Coupons.
Mr. Linky will close on Saturday, March  27th at 10pm CST. The winner of the $50 Gift Card will be randomly selected and contacted via email.
Let's hear your best ideas, bloggers! I am really looking forward to seeing your creativity.
**********************
The angel said to the women, "Do not be afraid, for I know that you are looking for Jesus, who was crucified. He is not here; he has risen, just as he said."