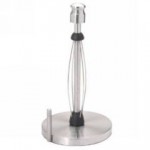 I suppose it was inevitable. My sweet pal Amy wrote a fabulous guest post a few months ago about paper towel alternatives. It was quite a hot topic, in fact!
I later admitted that I still used paper towels for various messes. But then, it happened. I went to buy a pack of paper towels and I kept hearing Amy's voice in my mind. So instead I opted for a stack of kitchen towels I found on clearance, for less than the cost of the rolls.
At home, I folded them and placed them in a drawer next to the sink. After a week, I bought another stack, and left the paper towel holder sitting empty.
So it has been a month now, and you know what? It is totally working for me. Not at all as bad as I thought it would be. In fact, I discovered that the cheap bar towels I bought actually clean better than paper towels. When they are dirty, I throw one or two in with a load of laundry, which is never lacking in this house.
I am not missing the paper towels, and amazingly, my husband and children have not complained.

By investing a few dollars in extra kitchen towels, I am potentially saving a few hundred dollars a year, not to mention reducing paper waste. Amy would be proud.
Now I just need to figure out what to do with my empty paper towel holder!
This post is linked to: Works for me Wednesday. For more frugal ways, visit Life As Mom.