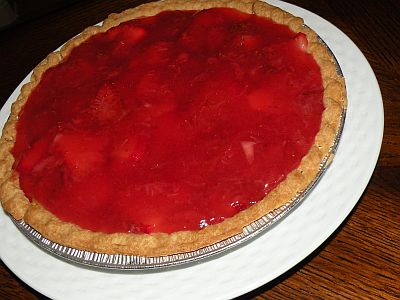 I know it is not officially strawberry season, but prices on strawberries just hit 99 cents a pound in my neck of the woods. At that rock-bottom price, it is time to stock up!
Since it was already in the 80's today here in Texas, I was craving a cool dessert. I whipped up this strawberry pie in just minutes! Okay, not really. I actually searched for a strawberry pie recipe and found that most of them call for ingredients I do not normally have on hand (gelatin).
But I thankfully I did find this simple one, with only 4 basic ingredients. My kind of recipe!

Oh my goodness it turned out beautifully and was so delicious. A frugal and refreshing treat, indeed.
Quick and Easy Strawberry Pie
Ingredients
1. Arrange half of strawberries in baked pastry shell. Mash remaining berries and combine with sugar in a medium saucepan. Place saucepan over medium heat and bring to a boil, stirring frequently.
2.In a small bowl, whisk together cornstarch and water. Gradually stir cornstarch mixture into boiling strawberry mixture. Reduce heat and simmer mixture until thickened, about 10 minutes, stirring constantly. Pour mixture over berries in pastry shell. Chill for several hours before serving.
3. In a small bowl, whip cream until soft peaks form. Serve each slice of pie with a dollop of whipped cream. Or just grab a can of ready-whip.

*Tip: Use a nifty strawberry slicer to save time! If you don't have one, an egg slicer will do.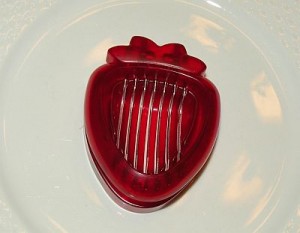 If you prefer to make your own crust (probably much yummier), I recommend Lori's perfect pie crust recipe. You could also adapt this to be gluten-free with Linda's pie crust recipe.
Are you seeing great prices on strawberries in your stores? Tune in tomorrow, when I will be sharing a whole slew of strawberry recipes from around the blogosphere!
This post is linked to Tasty Tuesday and Tempt My Tummy Tuesday.