Last week, I posted a quick poll about eating out. Over 500 responses later, the results are in!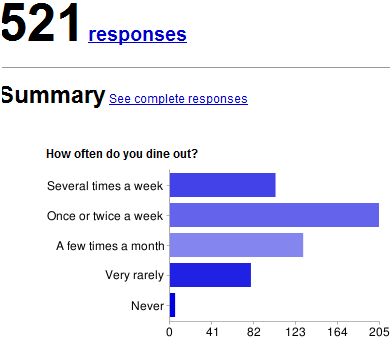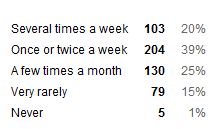 I imagine that readers from all over the country weighed in!
While my poll was in no way scientific, I do think the results are quite revealing. Despite the recession, and despite our common desire to save money, most of us love dining out! Perhaps a little more than we should.
I don't believe there is anything wrong with dining out. That statement may surprise some of you! Actually, I enjoy supporting local small businesses in general. Like the ice cream shop owner who knows my children by name. Having worked in restaurants and hospitality myself for many years, I appreciate good service and always tip accordingly.
But like anything else, dining out must be in the budget and done in moderation. I am not a menu planner by nature, so in order to avoid the take-out trap, I know I must make an extra effort to plan ahead.
Over the next few weeks, I will be sharing some tips and ideas to make eating at home more of a reality. I would love to hear yours as well!
What do you think of the poll results? Do they surprise you?
This post is linked to Life As Mom.