If you have been inspired to eat out less, you need meals that are frugal, simple and quick. Plain old pasta is so boring. If you are intimidated by the thought of homemade lasagna, I assure you that anyone can make this dish.
Are you ready?
Start with a bag of frozen ravioli. Any flavor will do, but cheese works quite nicely. I bought mine at Aldi. Keep in mind that it must be frozen, not the fresh refrigerated variety.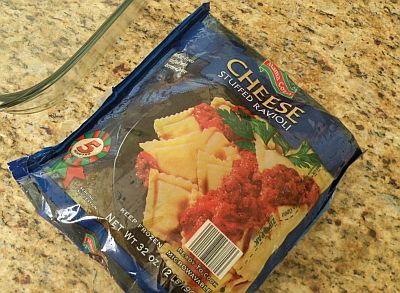 Allow it to defrost a bit so the pieces come apart easily. Take a jar of your favorite pasta sauce, and pour a quarter of it into the bottom of a 9×13 baking dish. Add 1/4 cup of water and spread evenly.
Line the bottom of the pan with a layer of ravioli, piece by piece. Press it gently into the sauce.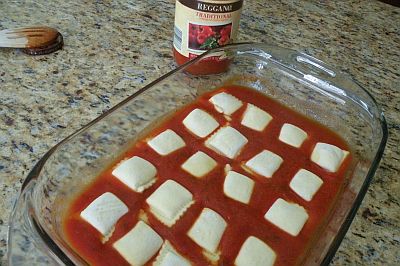 Now layer about one cup of shredded mozzarella cheese over the ravioli. Dollop a layer of sauce over the cheese. You could now add a layer of cooked spinach or other veggies at this point if you so desire.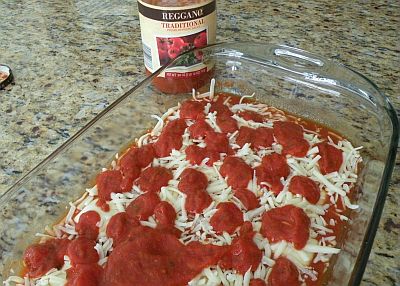 Next add another layer of ravioli over the sauce and cheese, followed by another layer of sauce, then mozzarella and a generous sprinkle of parmesan.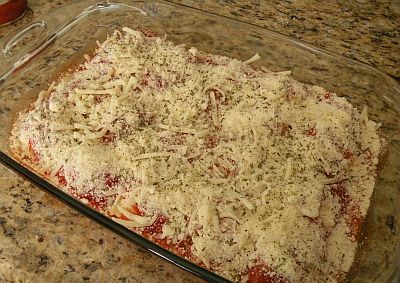 Sprinkle with some parsley flakes for an extra fancy touch.

Cover with foil and bake at 350 for approximately 30 minutes. Remove foil and cook an additional 15 minutes until bubbly.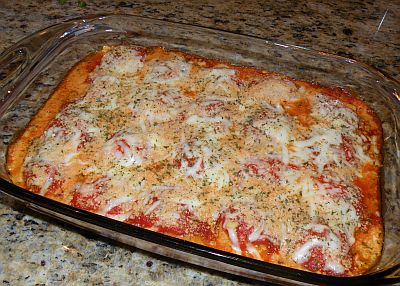 Be sure to allow the pan to cool for about 10 minutes before serving. Cut into squares and serve just like lasagna. Add a tossed salad and some garlic bread for a crowd-pleasing meal!
This dish is even better the next day as leftovers; it also works well as a make-ahead meal for the freezer.
Linked to: Tempt my Tummy Tuesday