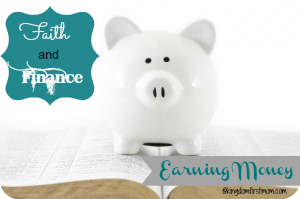 One of the first concepts I strive to teach my children about money is how we actually get it. A young child may believe that the bank or the ATM "gives" us money. Or perhaps they believe a piece of plastic will buy whatever we need.
While we as believers can trust in God's faithful provision, we must also be diligent earners. When children grasp that earning money comes through work, they are learning one of God's first commands.
God established work while Adam and Eve were yet in the Garden of Eden. God invited them to join him in the ongoing act of caring for creation. Work before the fall of Adam and Eve is a blessing, not a curse. All work has dignity.
For even when we were with you, we gave you this rule: "If a man will not work, he shall not eat." 2 Thessalonians 3:10
Here, Paul petitioned to the church to follow his example of avoiding idleness.
I have worked for as long as I can remember. Not just for the sake of earning money, but also by assisting my mother with my younger sisters and household duties as a child. Later as a single mom, I supported myself and my daughter with a full time job. Today, my job is at home.
How do you teach your children about the value of work?
New here? Catch up on my weekly Faith & Finance posts.