The following is the sixth in a series of guest posts about gardening from Rene at Budget Saving Mom. Catch up on the series here and get inspired to save money while gardening!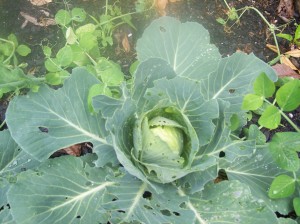 Anytime that you have a garden, you are also going to have insects that want to eat your produce and plants. You definitely want to control these insects so that you can be the one enjoying your produce.
There are many pesticides that people use. However, there are also ways that you can control the insects in your garden naturally. This is better for you and your family's health and the environment.
Manually Remove Bugs and Eggs:
This is how we control our bugs at the beginning of the gardening season.
You will have a few insects that have wintered in the ground, and they will come out and lay eggs each season.
When your plants are young, it is pretty easy to turn the leaves over, and manually remove the bugs and eggs. If they are hard eggs, that you can not smash, you might need to remove a portion of the leaves. Make sure that you actually smash any eggs or else remove them from the garden.
We feed the bugs and eggs to our chickens, ducks and guineas. However, if you do not have birds, you can place the eggs and insects into a cup of water so that they drown.
This method only works at the very beginning of our garden, since it is so time consuming; however, it really does help since we are able to take care of the bugs when they first come, and before they start multiplying.
Control Bad Bugs With Good Bugs:
If you are not planning on using poisons in your garden, you can help control your insect population with good bugs. These are bugs that eat bugs that enjoy feeding on your garden.
The reason that you need to ensure that you will not be using poison, is that poisons will kill ALL insects. You don't want to invest in good bugs, and then use poisons and kill them.
There are quite a few different types of good bugs. We usually order ours from Gardens Alive. You can order praying mantises, lady bugs and other insects that will help to control the insects in your garden.
If there is a particular type of insect that you have problems with, you can research with beneficial insect you should order for that type of buy.
Making A Natural Bug Spray:
You can also make a homemade, natural bug spray.
This bug spray is basically a pepper spray, so you will want to use caution when using it. We wear gloves, eye protection, masks and only spray on days that are not windy.
Also, you will want to spray when it should not be raining that day, and not on the day that you are picking your produce, or your produce would be spicy as well.
Here is the recipe that we use:
1. Mash cloves of garlic.
2. Add peppers, mint and garlic to water in a pot on the stove.
3. Bring the water almost to a boil.
4. In the morning strain the liquid.
5. Add a couple of squirts of dish soap.
6. Spray your plants.
The amounts of garlic, mint, and peppers vary based on the amount that we have ready in our garden at the time. You will make the spray the night before you want to use it.
How To Spray Your Plants:
When you spray your plants, you want to spray the top and underside of leaves.
This is not poison that you are spraying, but it makes the leaves too spicy to eat, and can kill the insects as well.
Most insects and larvae spend their time on the undersides of leaves, which is why it is so important to spray the underside. The bugs actually have to touch the spray for it to work. Remember to spray when it is not windy, when it will not be raining, and to make sure to wear protective gear.
Naturally Controlling Slugs:
If you have plants that are being eaten, but you don't see that many bugs, chances are that slugs are eating your plants.
Slugs come out at night to feed, and by the time that you get out to your garden in the morning, they have hidden again. Check out my post here about how to naturally control slugs.
What tips would you add for naturally controlling pests in your garden?
Shared at: Works for Me Wednesday