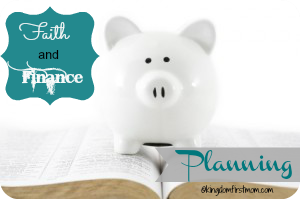 The Bible has plenty to say about making plans. Clearly God is a planner, and He desires his children to make plans, as well.
The plans of the diligent lead to profit as surely as haste leads to poverty. Proverbs 21:5
How does planning affect our finances?
Planning a budget keeps our spending on track. Planning a menu helps us eat at home more. Planning a shopping list with matching coupons saves money.
The simple plans we make today can have a major impact on our financial future. Setting up college or retirement funds. Obtaining life insurance. Making a plan to pay off debt.
Commit your actions to the Lord, and your plans will succeed. Proverbs 16:3
Start with one small plan at a time.
How does planning help you become a better steward?
New here? Catch up on my Faith & Finance weekly series.