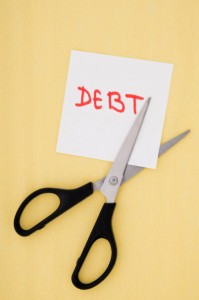 Exactly two years ago this month, I made a big announcement. Our final credit card had been paid off completely after years of living with consumer debt. I have to say, I am so glad I publicly shared that success.  It has kept me accountable over the last two years.
Some people can manage credit cards effectively, racking up rewards points and paying off the balance each month. I am not one of those people. My husband is not one of those people. Occasionally, an offer letter will arrive in the mail or that friendly cashier at JCPenney will ask if I'd like to "save" on my purchases by opening a line a credit.
The old me would likely hesitate. Maybe even pause for a moment to consider it. But today, my readers are my accountability partners. I can firmly and confidently decline a new credit card without reserve.
Have there been temptations?
Of course. We recently moved into a larger home with our growing family and the addition of my sister to the mix. Financing a new sofa or rug would be so convenient.  Instead, we paid cash for those. There are other items on my "wish" list. Items that can wait.
In the meantime, we continue to enjoy a life without credit cards. The first few years of our marriage saw lots of plastic. Reflecting now on the last two years without them, I see major differences in our family life.
To name a few:
Less mail: Far less paper clutter comes into our home without credit cards bills.
Better sleep: New babies aside, we honestly sleep more soundly without debt hanging over us day and night.
Fewer payments: This is rather obvious, but just having the basic bills to pay each month saves time and hassle over making payments.
No surprises: When purchases are made, they are carefully planned and researched. There is no spontaneous splurge with a credit card.
Less uncertainty: We no longer question how we are going to pay for emergencies, or even our upcoming (frugal) family vacation.
More giving: Without hundreds of dollars going towards credit card bills every month, we have been able to be far more generous with our finances.
Two years later, I can look back and realize the peace that paying off that final card brought to our lives.
If you are struggling with debt, read how we stayed motivated by using visuals.
Note: In the spirit of full disclosure, my husband does use one company credit card for travel and business expenses as is required by his employer. But thankfully this is never part of our family finances.

Linked to: Frugal Friday