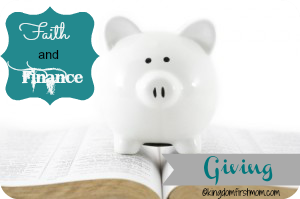 When you think of giving in Biblical terms, what comes to mind?
The offering plate? Basket? Drop box?
Or perhaps your checkbook.
Actually, scripture reveals that tithing and giving are two very different things. The tithe is commanded. Giving is completely voluntary, and from the HEART.
There are approximately 2000 verses in the Old and New Testaments that speak of giving to the poor. Clearly this is an important topic for every believer to consider.
As this year's 30 Day Giving Challenge approaches, I have been praying through, learning and studying scriptures on giving. One thing has stood out for me the most:
Giving is not about a number. Giving is about LOVE.
God has given us so much because of His great love for us. He wants us to give generously and cheerfully.
So let each one give as he purposes in his heart, not grudgingly or of necessity; for God loves a cheerful giver. ~2 Corinthians 9:7
I recall my favorite Dave Ramsey quote: "Giving is the most fun you will ever have with your money".
Are you having fun?
Join me as we further explore this topic here on the Faith & Finance series.