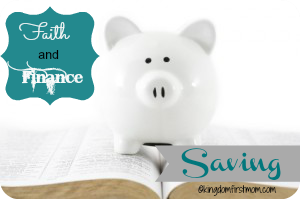 The topic of saving as it relates to the Bible can be rather tricky. Perhaps that's why this post has been weeks in the making.
If our heart is not in the right place, saving can so easily become hoarding. By first learning what God's word teaches us about giving and stewardship, we can then keep saving in perspective.
There is desirable treasure,
And oil in the dwelling of the wise,
But a foolish man squanders it. ~ Proverbs 21:20
Saving has a purpose, a plan. Hoarding has neither.
Go to the ant, you sluggard!
Consider her ways and be wise,
Which, having no captain,
Overseer or ruler,
Provides her supplies in the summer,
And gathers her food in the harvest. ~ Proverbs 6:6-8
A Christian can save for the future and still give generously. One can save with a purpose, yet remain focused on God's provision.
I remember years ago, the old me eagerly anticipating pay day and planning my expenditures. Often, my paycheck was spent within days of it hitting the bank account. The result was a life controlled by those circled days on the calendar. Saving for anything felt utterly impossible.
Now living on less than we make is newfound freedom. Saving for the future each month is not only possible, but an act of obedience. But that all had to start with a plan… a budget.
Join me as we further explore this topic here on the Faith and Finance series.