Baking is one of the most frugal ways one can give. And what better time to get baking than the month of November? I must confess that I do not often bake, but the cooler weather and changing leaves has me itching to break out my dusty KitchenAid mixer.
There is nothing like a warm cup of coffee and a freshly baked muffin on a Fall morning to start your day, am I right?!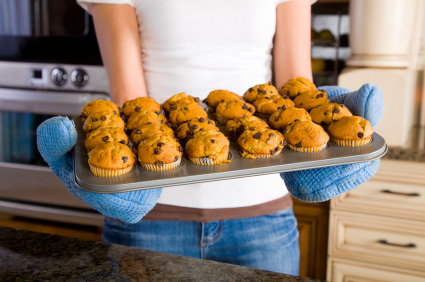 I am constantly inspired by crafts or speakers each month at the MOPS group I attend. Our recent meeting covered hospitality, and the speaker kindly shared her recipe for the decadent muffins she bakes for her guests. These are no ordinary muffins. These are the "Best Muffins Ever"!
What I love about this recipe is the versatility and variations one can add. You can truly suit it to anyone's taste! Don't let the long ingredient list intimidate you, this is really quite simple.
Here is my friend Melissa's official recipe for "The Best Muffins Ever":
Position a rack in the center of the oven and preheat to 350. Prepare your muffin tin – with or without liners – and oil the top and wells.
In a large mixing bowl, combine the following:
3 1/2 cups flour
4 tsp baking soda
1/2 tsp baking powder
1/2 tsp salt
Mix well.
In a second, medium mixing bowl, combine the following:
1 1/3 cup sugar
10 tablespoons melted and cooled unsalted butter
1 cup whole milk- room temperature
1 cup sour cream- room temperature
2 large eggs- room temperature
Whisk well. Pour wet ingredients into dry and gently fold – leave it lumpy; there should still be some streaks of dry flour.
Then you customize! Choose your add-ins and fold in until just combined – do not over mix.
Flavorings (1 or 2)
1/2 tsp almond extract
3/4 tsp ground cinnamon
3/4 cup coconut
3/4 tsp ginger
2 tsp lemon zest
Nuts (optional, 3/4 cup)
pecan pieces, almond slices, walnut pieces
Fruit or Chocolate (1 1/2 cups)
apricot halves fresh or dried chopped
bananas, thinly sliced
blueberries, fresh or frozen
granny smith apples (peeled and coarsely chopped)
raspberries, fresh or frozen
chocolate chips (my personal favorite)
Distribute the batter into the muffin tins using an ice cream scoop. Batter should mound higher than the cups by 3/4 inch or so. Bake until golden for 30-35 minutes. The tops will likely meld.
Cool 15 minutes and enjoy!
These would likely freeze well to keep on hand for quick morning meals. Or assemble a half-dozen or so in a pretty basket and deliver to a friend or neighbor.
Linked to Tasty Tuesday and Tempt My Tummy Tuesday