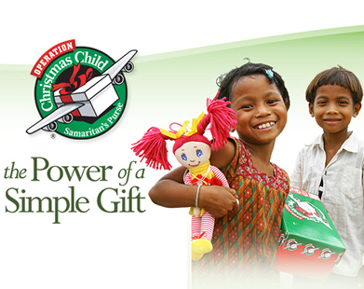 All month long, I'll be sharing giving ideas and causes as part of The 30-Day Giving Challenge. The following is a guest post from my dear friend Sarah Pinnix.
It's just a little shoebox. You probably have one in the back of your closet. But simple gifts that you put inside that shoebox can change the world… or the life of ONE of God's children who need Him. But equally as majestic, is how it changes us.
This year, we packed three shoeboxes, one for each of my three girls. We went out for a special shopping trip, but made lists first! Sometimes, when we go an a whim, I hear, "Hey, mom! We need to get one of these 1000- packs of Silly Bands and a bottle of lotion!" "Um… no, we can't pack liquids and lotions. And the Silly Bands? Well… no one needs that many Silly Bands"
So we made a list of things a child who has literally nothing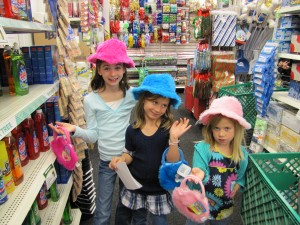 might need. We prayed about a few special items to include in the box. It was a profound experience for the kids to pray for a specific person whom they had never met. Learning to forget about ourselves and give to others is one of the most important lessons I can teach my kids. I love to set aside a special shopping trip where they get nothing for themselves, only shopping for the purpose of giving.
And inevitably, during the shopping trip, they were tempted to buy things for themselves. My 7 year old innately asks, "Mom, can I have one of those too?" "No, sweetie, we're here to buy for others." "But… *Sigh* OK." My nine year old, who has been doing these trips for years, is really starting to "get it." My heart lifted when she explained to the younger sisters why we're giving.
As they sat around the kitchen table, writing letters to their Christmas Child, I fell in love with each of my girls all over again. Little Pea even drew a "Princess Alien with Static Hair" for her child! She worked meticulously on it, while the older sisters wrote words. We are planning to share our Shoebox Packing on Shoe Tube (www.occshoetube.com) this year. YES! YouTube for Shoeboxes!
Last year, we brought OCC into the Blogosphere with a Linky Carnival, and I plan to do the same thing again this year. Bloggers at the Blissdom Conference in 2010 brought all kinds of items and we did a funny "man on the street" video for OCC at the conference!
If you're looking for a simple way to give to a needy child, look into Operation Christmas Child. Check their website at www.samaritanspurse.com/occ to find out how to pack a shoebox, where to bring it, and how to follow your box on its journey! You can also organize a packing party or join with one near you.
Check out a few resources I have on my blog, too
Christmas Charity on a Shoestring- Frugal ways to contribute to OCC
Share on "Shoe Tube" and win a distribution trip!
————————————————————-
Sarah Pinnix is a North Carolina mom of 3 girls. RealLifeBlog.net is home to her blog, where she shares about family, faith, parenting, homemaking, and more. Sarah is passionate about encouraging other moms to accept (and laugh at) their imperfections while at the same time striving for excellence in life. She also hosts a weekly live web show, called the "Mom Blog Buzz," all about the social media mom, and the world of blogging.