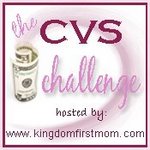 Welcome, my fellow CVS fanatics and newbies! It's Sunday, time for our weekly CVS $5 Challenge. The place to go for simple CVS scenarios with step-by-step instructions.
It's not a terribly exciting week at CVS, but still worth a look. All you need is an ExtraCare Card, a CVS ad, a printer and coupons to get started. Be sure to register your CVS loyalty card with Upromise for extra college savings.
If you are a first time visitor, here's the lowdown:
Join me on Sundays as I host The CVS $5.00 Challenge!
Seasoned CVSers: share your best scenario(s) for the upcoming week at CVS.
Your budget: $5.00 out-of-pocket cash.
Your mission: To grow that $5.00 into even more ECBs to use in upcoming weeks.
Want to participate? Start by reading the rules here. Curious how to do multiple transactions at CVS? Read this post.
*****************************
Here is MY $5 Scenario for the week of December 12th:
*coupons in red
Transaction #1
Buy 1 Crest Pro Health Toothpaste @ $2.99
$0.75/1 Crest Toothpaste, exp. 12-31-10 (P&G 11/28/10)
Total After Coupon= $2.24
ECBs earned= $2.00
Transaction #2
Buy 1 Motrin PM 20 ct. @ $5.99 (monthly deal)
$2.00/1 Motrin PM (11/21/10 SS insert) or ALL YOU (Nov. 2010)
Pay with $2.00 ECB's from above
Total After Coupon & ECB's= $1.99
ECBs earned=$3.00
Grand Total OOP= $4.23
Total Value= $8.98 with $3.00 ECBs remaining.
Keep rolling those ECBs for more savings!
*********************************
Now let's see what fabulous scenarios you come up with for around $5.00! Simply post your scenarios on your blog, then add your link below.
Please link directly to your scenarios. Links directly to your homepage will be deleted.

Don't have a blog? You can leave a comment with your scenario, too. I invite everyone to participate.