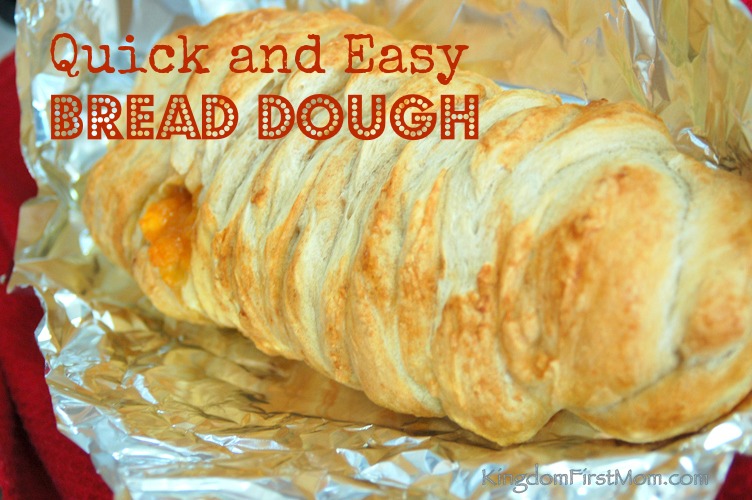 The following is a guest post from my real-life friend and blogger, Rachel of Quirky Momma.

We're a family of bread snobs.  We love whole grain bread.  As a mom of four, I also love convenience and hate paying $2.50 or more for a loaf of quality bread.  So, here's the secret: I can eat whole wheat bread fresh out of the oven with 30 min notice for 25 cents a loaf. Yummy and frugal!
I discovered no-knead, slow-rise bread that you can prep in advance to save you time and of course, money.  Even preschoolers can learn to help! You'll need a big food-safe container with a lid.  I use a 5-gallon Rubbermaid tub.  You want the lid to contain the growing dough, but not explode.  To help the dough "breathe" I poke a tiny hole into the lid.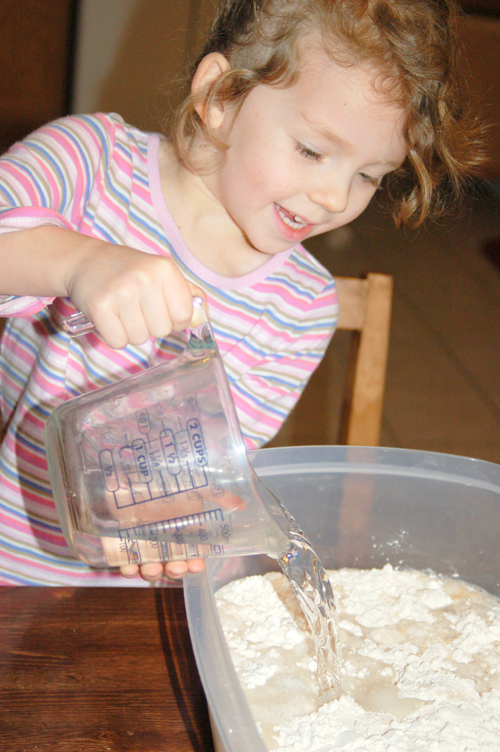 What do you need to create the easiest bread dough?
Ingredients

9 cups of flour – If you use whole wheat use at least 1 cup of white or add gluten.  I have used oat, rye, flax seed, whole wheat, Bulgar and even dried potato as my "flour".
1 Tablespoon of sugar – I use brown sugar or sugar in the raw as they have the best flavor
1 1/2 teaspoon of yeast
1 1/2 teaspoon of salt – I use coarse sea salt as it dissolves slower, allowing the yeast to do its stuff.
4 1/2 cups of room temperature water
5 Quart Tub
1. Mix all of the dry ingredients together, then add the water.  Mix until all the ingredients are wet.
2. Put the lid on it and let it sit on a counter for several hours.
*Note: If your house is warm (like our house in the summer) you may only want it to sit for an hour or two.  As it is winter our dough tub sits above our fridge for most of the morning.  Stick the tub in the fridge after it starts to bubble.  The dough needs to sit for roughly 18-24 hours before you can start using it.  It should have doubled in size and it keeps in the fridge for more than a week.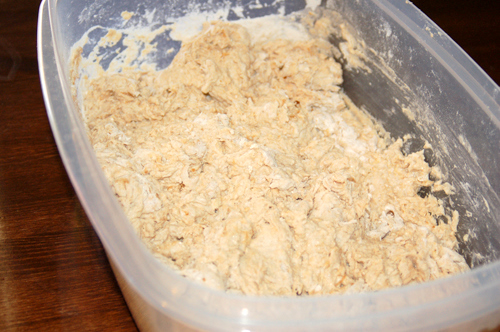 3. To cook with the dough, just scoop out what you need and form it into loaves, rolls, etc.  We've even used the dough as our base to create bagels and soft pretzels.
4. Let the bread sit for a few min before sticking it into the oven.  The yeast needs to be reactivated.  Then bake as normal.
Typical baking instructions/times are as follows:

Dinner or Sandwich Rolls :: Fold dough over itself a few times, so the bread expands up rather than out.  Dust with flour so the lump isn't sticky.  Bake 20-25 min. at 350 degrees.
French Bread :: Loosely fold dough into a log shape.  Sprinkle with water.  Stick in oven at 375 degrees for 20-30 min.
Pizza Crust :: Sprinkle dough with corn meal.  Roll flat.  Bake for 5-15 min, depending on how crunchy you like your crusts, at 400 degrees.  Add toppings and re-bake.
Bagels :: Form into "O"s.  Drop dough into boiling water for a min or so.  Drop on baking sheet and bake for 20 min at 350 degrees.
If you have a little bit of dough left in the container, feel free to use it as your "starter" and add the new ingredients to the container.  The longer you keep it "alive" the more flavor your bread will have.
As you can see, fresh baked bread does not have to be complicated. Just a little prep time in advance will have you on your way!
About Rachel Miller
Rachel is mommy to three rambunctious preschoolers and a bubbly infant. Their lives are anything but boring!  Her website, Quirky Momma, is the brain-child or diary of all their crazy and silly activities, learning adventures, and helpful tips for parenting and/or maintaining your sanity and survival. You can connect with her on Facebook.