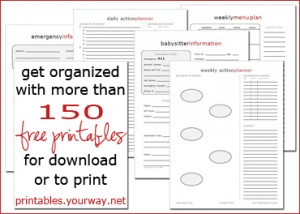 Over the last few years, my dear friend Mandi at Life… Your Way has been creating amazing printables, many of which are included in my home-making binder. The printables are very helpful in keeping me on-task and organized.
Everyday we walk around with thousands of pieces of information crowding our brains. Birthdays and other important dates, shoe sizes and cleaning schedules, menu plans and bills that are due.

With the Life…Your Way printables, you're able to get all of the information out of your brain and onto paper so you can free up your mind for things like enjoying your family, rediscovering your creativity and improving your productivity.
The collection includes more than 150 printables — with new ones added each month — and they are available to you for FREE!
You also have the option of purchasing the complete download pack for $7, which includes all of the printables in one file, organized by category, as well as, monthly emails with new printables. With either option, you get the exact same printables; there is no difference between the printables available for free or for purchase.
Some of my favorite printables are:
Birthday Organizer
Blogging Goals
Dirty Dozen Cheat Sheet
Freezer Storage Cheat Sheet
Goals Worksheet
HTML Cheat Sheet
Mind Map Template
Online Passwords
Summer Packing List
Weekly Menu Plan + Shopping List
Which printables are your favorites?