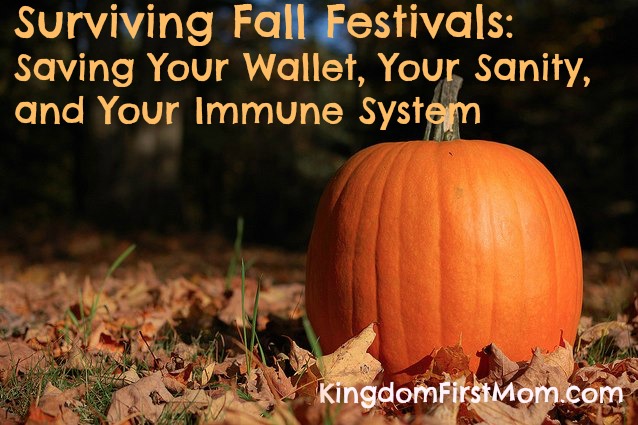 The following is a guest post from my dear friend, Rachel.
Wow! I can't believe it's already fall again! After this crazy heat and the drought conditions here in Texas this past summer, I can say wholeheartedly that I am MORE than ready for fall!
I love watching the leaves turn, going on hayrides, being outside, and being able to go to the park with the kids without sweat pouring down!

All around it's just a wonderful time of year!
Another one of my favorite things to do in the fall is go to Fall Festivals! We don't celebrate Halloween and do the Trick or Treating thing, but we LOVE Fall Festivals! And go to about as many as we can fit into our schedule!
So I thought it would be fun to share a few ways that you can survive the fall festivals without breaking your wallet, your sanity, or your immune system!

Do Your Research
You will likely want to go to the fall festival of your local church if they are sponsoring one, but what about beyond that? If you live in a large city, there are a plethora of options to choose from, and a limited amount of time, so how do you pick the best ones?
Think Big
The larger churches in the area are usually (but not always) the best places to go for the best activites. You'll want to call around to different churches ahead of time and ask lots of questions like… "Will you have rides and activities for the older kids?" "Do you have a policy against scary costumes" and…
"Is There A Fee?"
Now, I do not think this is the norm, but we have shown up at fall festivals before and been asked to pay $5 per person to get in! I sure wish I would've called ahead of time to check. Not that I'm against paying something for an awesome carnival-like fall festival setup, but I want to know in advance so that we can budget for it.
Plan To Get There Early
Or at least right when the doors open. Scope out the scene and head to the rides that will likely end up with a very long line. For example, our kids LOVE the high-jump trampoline (is there an official name for this?) where you get strapped in and have 5 whole minutes to jump as high as you possibly can! The problem with that 5 minutes of jumping, though, is that, well, each kid jumps for five minutes… which equals an extremely long line for most of the night. Getting there right as the doors open means that your kids can be first in line so that they can enjoy the other games too!
Buying Costumes
Probably by far the most expensive part of these fall festivals is buying the costumes. Especially as your family grows (we are up to 4 now), the costs just seem to skyrocket! Here are a few ways to keep your pocketbook happy when planning for costumes.
Pinterest
Pinterest is my new addiction. I could (and do!) look through different photos and ideas for hours at a time! I have seen a bunch of super cute & CHEAP kids costumes comes through my Pinterest stream that you can make yourself! One idea that looked super cute is a homemade jet pack using just a couple of coke bottles, spray paint, and some tissue paper! What little boy wouldn't love his very own jet pack?!? What fun DIY costume ideas have you seen on Pinterest?
Swapping
You can do this through an official costume swapping organization, or just get together with your local moms group and organize a costume swap yourselves! Goodness, I must have about 10 costumes in random places around the house, and I'm sure other moms are the same. And the kids only wear it for ONE DAY!! Why in the world should we be buying a new one each year?
Get Clearance for Next Year
Even if you can't get a great deal this year, you can always plan ahead for next year! The costumes that were $49.99 on October 30th, will be on sale for $6 the first week in November.
I Want Candy (or not!)
This is the part of everything that makes me want to hit my head up against the wall. Seriously, I really think that this fall sugar rush at the end of October is one of the factors that makes us more susceptible to diseases like the flu during the winter (in addition to a lack of Vitamin D). So what can we do with all of this candy that's thrown at us every year? Here are a few options:
Just throw it away
Yes, I said it. And yes, I could've said "donate it." Why didn't I? Because if something is going to hurt US, why would we donate it to hurt someone else? We went to the fall festival to have fun, NOT to load up on candy, and our goal was accomplished! And sure, I would let the kids pick a couple of their favorites to keep (and I might grab the bag of M&Ms and a couple of Heath Bars too), but the rest would just go in the trash.
Candy Trading
Now this DOES cost a little bit of money. But the money paid now might be MUCH less than the money spent at the dentist later. We've done this with our kids before and it's worked out really well! You have the kids count up all of their candy pieces and you exchange a certain number of candy pieces for a toy in the dollar section of Target, or at the dollar store. For example, 50 pieces = 1 toy. The kids still get to have the fun of trying to get as much candy as possible, but for the purpose of trading instead of eating! Then proceed with the first suggestion.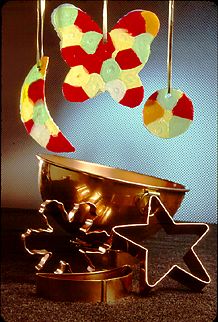 Make Candy Ornaments
Oh yes! You can actually turn all of the bad-for-you candy into something useful! Well, maybe not USEFUL, but at least something that won't hurt you.

Just preheat your oven to 350 degrees, put parchment paper, or aluminum foil down onto a cookie sheet and place your favorite cookie cutter in the middle. SPRAY the sheet and the cookie cutter WELL with non-stick cooking spray. Then put your hard candy (like lollipops, life savers, etc… hmm, I wonder if those nasty wax lips would work too?) into the middle and put the cookie sheet in the oven for about 8 minutes or so. Take it out of the oven and let it sit for a minute or two and then use a straw or another circular object to put a hole where you want the string to go. Let it continue to cool and then when it's "touchable", pull the candy away from the cookie cutter. Put the string through the hole and voila! You have your own homemade candy ornament!
So what are your favorite ways to save money (and your sanity) during this time of year? Anything you would add?
Photo credit, top: Gadget_Guru on Flickr
Photo credit, second: A Taste of Kentucky
Rachel Holland is a homeschool mom of 4 awesome kids, and wife to one incredible husband. While she's not cleaning up messes, changing diapers, or teaching Latin (ha!), she, along with her husband Ryan, run the money-saving website, Surviving The Stores.